Langley teen girl's disappearance out of character
June 13, 2011 - The public is being asked to help find a missing 16-year-old girl who was last seen in her Langley home at 11:30 Saturday night, June 11.
. . . . . . . . .
Amanda (Mandy) Grace McPhee
has blond hair, blue eyes, and is 5'3" and approximately 160 pounds. She may have been wearing a black Gortex rain coat, black track pants with a thin yellow stripe on the side and black Converse running shoes at the time of her disappearance from her Brookswood area home.
"Mandy's family is extremely worried about her," says Cpl. Holly Marks, spokesperson for the Langley RCMP. "This disappearance is very out of character for her – Mandy has never run away from home before."
Cpl. Marks noted that Mandy is a good student, had been studying for her upcoming exams, and does not suffer from any medical conditions.
"She was supposed to study with a friend on Sunday afternoon, but did not make the meeting and did not call," said Marks. "As far as we can determine, she has not been in contact with any of her friends."
"We're urging everyone to please share this information on Facebook, Twitter and through any other means, so we can get Mandy home safely."
Anyone with information that can help located the missing girl is asked to contact the Langley RCMP detachment at 604-532-3200.
http://langley.bc.rcmp.ca/ViewPage.action?siteNodeId=116&languageId=1&contentId=19931

karma

Supreme Commander of the Universe With Cape AND Tights AND Fancy Headgear






Langley parents plead for return of missing daughter
Langley RCMP have released more information about the circumstances of Mandy Grace McPhee's disappearance
June 14, 2011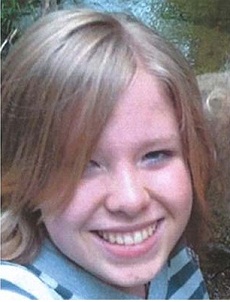 The parents of missing Amanda "Mandy" Grace McPhee pleaded for the return of their missing daughter Tuesday afternoon, two days after she vanished from their Brookswood home.
The 16-year-old Langley Christian School student vanished sometime Saturday night or Sunday morning, apparently walking out of the house without her cellphone, without ID, and with just a little money.
"We're very confident she's just out there somewhere," said Mike McPhee, her father.
He pleaded for anyone who saw a young, blonde woman around 208th Street and 42nd Avenue early Sunday morning, to phone the police.
"It's a really busy street, somebody saw her," Mike said.
Neither her parents nor police have been able to come up with an explanation for why Mandy simply seems to have left her home and not returned.
Her mother Wendy saw the straight-A student go to bed at about 11:30 p.m. on Saturday night, said Cpl. Holly Marks, spokesperson for the Langley RCMP. The girl took her pet dog into her bedroom for the night.
A short time after that, McPhee sent a text message to a friend arranging to meet to study the next day.
When McPhee's mother woke up the next morning, the dog was out of her daughter's room. She waited, thinking her daughter was just sleeping in, but when she went to wake her, the room was empty.
There was no sign of foul play in the home. Presumably, McPhee left sometime in the night or early morning. She may have gone out for a quick run or walk.
McPhee does not have a history of running away. She was in the middle of high school exams, she did not argue with her parents before disappearing, and she had planned a trip to Mexico with a friend and two mothers for later this summer.
Her parents say she didn't have a boyfriend, and none of her friends have seen or heard from her.
Marks said the RCMP have not found any evidence that Mandy was kidnapped from her home by force, nor have searches of her computer files turned up any indication that someone lured her via the Internet.
Her father urged her to get in touch with her family via phone, a computer, or text message.
"Mandy, if you see this, just do that," he said.
"If you're someone holding her, do the right thing, just let her go," he said.
Search parties are scouring the wooded areas of Langley's Brookswood neighbourhood and Langley RCMP are throwing all their resources into the hunt for the missing girl.
Teams of Search and Rescue volunteers are arriving from as far away as Hope and the Sunshine Coast, said search manager Paul Crosby.
Members of the public have been joining search parties that are heading into the ravines, berry patches, and BC Hydro right of ways in Brookswood.
The search is centred in an area about one mile in diameter around McPhee's home near 42nd Avenue and 208th Street.
While the teams have all the public volunteers they can handle right now, there are other things they can do, Crosby said.
"Check their own properties, particularly in the rural areas," Crosby said.
"That really does help us."
Volunteers are coming in from, among other places, Wendy's workplace.
Scott Baker's wife works with Wendy at an Aldergrove company. He and others joined the search on Tuesday, and said a number of her co-workers were taking time off work.
Police are using as many officers as they can spare for the search.
"The entire Serious Crime Unit is working on it," said Marks.
Units like Street Crime and General Duty officers have been pulled into the search, and regional units like the Canine Unit are helping. The Air 2 police helicopter was above Langley Monday night, using its infrared cameras to try and find McPhee by body heat, and that resumed again Tuesday night.
The B.C. Missing Children's Unit became involved Tuesday, and ChildFind created a missing person poster of Mandy.
Some officers are apparently coming in on their days off to help as well.
The RCMP are still asking the public to help as much as possible by keeping an eye out for the missing girl, and to pass along any information they might have.
"We are just begging, begging for help," Marks said.
"We do not know what happened to this girl."
Anyone with information can call the Langley RCMP at 604-532-3200. Police are encouraging the public to use Facebook, Twitter, and email to spread information about McPhee.
Read more:
http://www.langleyadvance.com/Langley+parents+plead+return+missing+daughter/4944007/story.html#ixzz1PIlYaaNP

karma

Supreme Commander of the Universe With Cape AND Tights AND Fancy Headgear






Family organizes search for missing Langley teen
Appeals to volunteers for help find Amanda McPhee
June 15, 2011
The family of missing teen Amanda McPhee are organizing their own search parties across Langley after police called off the official search for the girl Wednesday.
More than a dozen family members met this morning at the McPhee family home, at 4284 208 St., where teams of three were given maps of specific areas to search.
The areas included ravines and wooded areas around neighbourhoods, such as Murrayville, where Amanda was planning to go Sunday afternoon to meet a friend.
Others were planning to canvas hospitals to see if Amanda had been brought in.
"Everything around has been searched so there's no point searching it 10 times," said Amanda's father, Mike McPhee, referring to the immediate area. "We need people to look in their barns, their RVs. If somebody took her, or if she's hiding somewhere, what better place than an RV? If she's hiding she can't go far."
The 16-year-old Langley Christian School student vanished sometime Saturday night or Sunday morning, apparently walking out of the house without her cellphone, without ID, and with just a little money.
READ MORE

karma

Supreme Commander of the Universe With Cape AND Tights AND Fancy Headgear






Missing Langley teen found at bus loop
June 17, 2011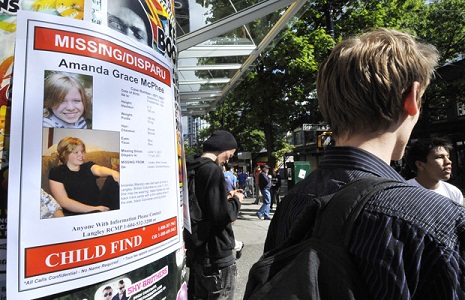 Mounties were mum over how a missing Langley teen was found just minutes after issuing an plea for information that could lead to her whereabouts.
Amanda "Mandie" McPhee was spotted alone at the Langley City bus loop Friday around 5 p.m. by a transit rider who recongized 16-year-old from media reports. The girl was last seen the night of Saturday, June 11, when she went to bed at her family's home.
"We're certainly relieved that she's been found unharmed and safe," Sgt. Peter Thiessen told The Province.
The RCMP spokesman, however, did not detail where the Grade 11 student had been since she vanished, who she may have been with, or if any criminal acts had occurred.
He added investigators would investigate an account given by the teen in an attempt to determine if criminal charges are warranted.
At a briefing an hour earlier Thiessen said the reigion's homicide investigation unit had joined the search.
READ MORE

karma

Supreme Commander of the Universe With Cape AND Tights AND Fancy Headgear






Langley teen Amanda McPhee apologizes for running away
June 21, 2011
A notice for information on missing Langley teen Amanda McPhee is on a light pole at Granville and Robson Streets where fans gathered for game seven of the 2011 NHL Stanley Cup final Wednesday June 15, 2011 in Vancouver, B.C.
Langley teen Amanda 'Mandie' McPhee has gone on YouTube to explain — sort of — why she ran away from home, sparking a massive search and investigation.
In her video, which is called 'Life Moves Pretty Fast', she explained that she ran away from home on June 11 and spent the days wandering around Vancouver and riding transit. She even slept on Mount Seymour before returning to Langley last Friday.
"It's incredible and overwhelming how much effort was put in to find me," she says in the video, which appears to be pieced together from many clips. "I can't even explain how sorry I am. It was a huge mistake.
"You guys never gave up on me. Thank you. Thank you for praying for me."
McPhee went on to quote a famous line from the film Ferris Bueller's Day Off:
"'Life moves pretty fast. If you don't stop and look around once in a while, you could miss it.' I stole that from a movie. But it's a good line."
The video never really explains why McPhee took off.
"I had loads of time to think while I was gone and I figured 'Hey, you can't run away from your troubles. That shit follows you everywhere.
"All I ended up doing was running away from everything that I love and cared about and leaving it behind. It was stupid.
"I want to give back to the community in the future and I hope everybody gets a chance to watch the video because I am just so sorry and I'm so glad to be home."
http://www.theprovince.com/news/fraser-valley/Langley+teen+Amanda+McPhee+apologizes+running+away/4976905/story.html

karma

Supreme Commander of the Universe With Cape AND Tights AND Fancy Headgear






A missing person's case that captivated the Lower Mainland came to a happy conclusion in June when a Langley teenager was found safe, and not far from home.
Mandy McPhee, then 16, vanished from her home in Brookswood sometime on the evening of June 11.
Her frantic parents contacted police, and both RCMP and volunteers from Fraser Valley Search and Rescue were soon hunting everywhere from the streets to ravines.
McPhee had left her home without her cellphone, with no ID, and with just a little cash.
Search and Rescue set up a command post in the parking lot of the George Preston Recreation Centre, and sent volunteers out for several days, but by Tuesday, June 14, they were ready to pack up. The searchers had exhausted their options for places to look for the missing girl, with their search area growing wider by the day.
Police continued hunting, and there were daily updates and appeals for tips from the public.
McPhee's family and friends, along with her parents' co-workers and students, and complete strangers, put up pictures of the Langley Christian School student around the Lower Mainland.
Volunteers organized search parties, beating the bush around the McLeod Athletic Park, and on the first weekend since her disappearance, crews were preparing to head into Campbell Valley Regional Park for a major search.
But on Friday, June 17, six days after vanishing, McPhee was spotted at the Langley City bus loop. A tip to the RCMP led to her being found and brought home safely.
The news that the search was over came just an hour after homicide investigators were added to the team looking for the girl.
"It's unbelievable what she did. It was obviously terrible in many ways, but I'm just so glad she came back I'm not even concerned about that stuff," her father Mike McPhee said the day she was found.
Mandy McPhee said she had come back to Langley on her own by bus and found the area plastered with her picture.
In an apology and partial explanation she posted on YouTube a few days later, McPhee alluded to being unable to run away from problems.
"All I ended up doing was running away from everything that I love and cared about and leaving it behind. It was stupid," she said.
She said she had spent her days walking and riding transit around Vancouver, and her nights sleeping on the slopes of the mountains on the North Shore.
"I can't even express how sorry I am," McPhee said.
She thanked the many people and agencies who were looking for her, from friends and family to police and Search and Rescue.
"I will never be able to repay everyone," she said
Read more:
http://www.langleyadvance.com/news/Missing+teen+brought+home/5922808/story.html#ixzz1hwROnmZp

TomTerrific0420

Supreme Commander of the Universe With Cape AND Tights AND Fancy Headgear





Job/hobbies

: Searching for Truth and Justice




---
Permissions in this forum:
You
cannot
reply to topics in this forum