Thursday, January 12, 2012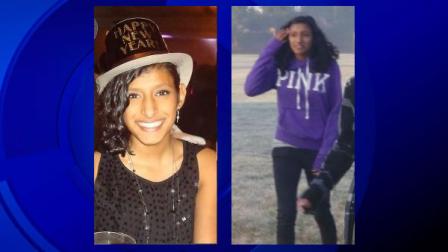 HAYWARD, Calif. (KGO) --
Family and friends of a missing 15-year-old Hayward girl will hold a search for her Thursday.
Darlene Singh was last seen leaving her parents' home at 7
a.m. Tuesday, taking a taxi to the Hayward BART station. Her family
thinks she took a train to Oakland.
Her final communication came in the form of text messages with friends at 10:30 a.m.
Darlene is 5 feet 4 inches tall and weighs 100 pounds and is said to suffer from social anxiety disorder.
Call Hayward Police if you have any information.
http://abclocal.go.com/kgo/story?section=news/local/east_bay&id=8502525

kiwimom

Supreme Commander of the Universe With Cape AND Tights AND Fancy Headgear






HAYWARD -- A 14-year-old girl missing for more than three days was found safe Friday in a Chico mall, police said.
Darlene
Singh, a Hayward High School freshman last seen Tuesday morning, was
expected to be reunited immediately with her family, who were driving to
the Chico area Friday evening, Capt. Darryl McAllister said.
"Nothing has ever made me so happy," said Arlene Singh, the girl's older sister.
Police are investigating why she went missing and what she was doing about 175 miles north of her home, McAllister said.
There is no evidence of an abduction or foul play and police have considered the girl's disappearance to be a runaway, he said.
On
the morning she went missing, her father dropped her off at school, and
she checked in with friends and at least one teacher before saying she
felt sick and was going home, her sister said.
Instead, she took a
taxi to the Hayward BART station and was last in contact with a friend
about 10:30 a.m., when she exchanged text messages, said Sheri-Lyn
Miller, founder of Citizens for the Lost, a nonprofit organization that
supports families of missing people and victims of violence.
It is unknown if Darlene took a BART train somewhere or if she left the station by another means of transportation.
After
she was reported missing, her family and friends posted more than 1,000
fliers throughout the city and used social media, such as Twitter and
Facebook, to ask the public for help.
The girl lives in Hayward with her parents, two sisters and grandmother.
http://www.mercurynews.com/breaking-news/ci_19739050

kiwimom

Supreme Commander of the Universe With Cape AND Tights AND Fancy Headgear







---
Permissions in this forum:
You
cannot
reply to topics in this forum