HAZELWOOD
• Police are attempting to locate an 11-year-old girl who was taken by her biological mother, who does not have custody of the child.
Gabrielle Jackson was last seen about 4 p.m. Monday leaving Hazelwood West Middle School. Her mother is Cecilia Montez. The pair is believed to be headed to Sacramento, Calif., in a dark-colored minivan with dark tinted windows.
Gabrielle lives in Hazelwood with her father, who has full custody of the girl. The father reported her missing when she did not come home from school.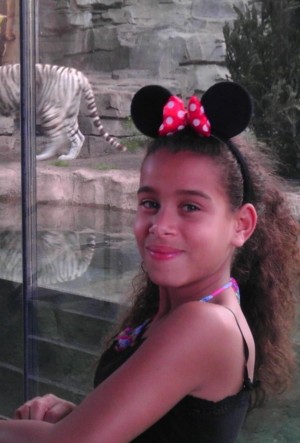 Gabrielle is 4-foot-11, 85 pounds with a light complexion, brownish-red hair and blue eyes. She was last seen wearing a pink or purple pea coat, blue jeans and black shoes. She was carrying a black backpack with silver hearts on it.
Anyone with information should call Hazelwood police at 314-838-5000
Read more: http://www.stltoday.com/news/local/crime-and-courts/hazelwood-police-seek-information-about-missing-girl/article_4cfe2d9e-4642-11e1-aaf4-001a4bcf6878.html#ixzz1kNiwZKaX

TomTerrific0420

Supreme Commander of the Universe With Cape AND Tights AND Fancy Headgear





Job/hobbies

: Searching for Truth and Justice



Gabrielle Jackson Still Missing Two Days After Her Disappearance

The Hazelwood child was last seen at school. Hazelwood Police believe
the 11-year-old was taken after school by her mother, Cecilia Montez,
who may be headed out of state. There's been no progress as the Hazelwood Police Department (HPD) continues to follow the case of a missing 11-year-old girl who police think may have been taken by her biological mother.Police say Montez, who does not have custody of Gabrielle, took her as she left school Monday.Hazelwood Police Sgt. Andy Eagan said Tuesday the investigation is
ongoing and the Missouri State Highway Patrol has stepped in and added
Jackson to its missing person clearinghouse. She now appears on a missing persons flier. Police say Montez picked Gabrielle Jackson at Hazelwood West Middle School in a dark-colored minivan with dark tinted windows.

Montez may be taking Gabrielle to Sacramento, Calif., according to an HPD press release.Gabrielle is 4-foot-11. She is black and weighs 85 pounds with a light complexion, brownish-red hair and blue eyes.She was last seen wearing a pink or purple pea coat, blue jeans and
black shoes. She was carrying a black backpack with silver hearts on it.Gabrielle lives in Hazelwood
in the 700 block of Lynn Haven Lane with her father, who has full
custody. The father reported her missing when she did not come home from
school.Montez is a Hispanic woman who is 5-foot-3 and 140 pounds.

How You Can Help

Because it's thought that Jackson is being taken out of state, you
can forward this article, her flier and her picture to any person you
know between Missouri and California.Recommend it to Facebook friends and Tweet it on Twitter to see if
the message about the young girl can make it to California before her mother does.

Anyone with information should call Hazelwood police at 314-838-5000.

http://hazelwood.patch.com/articles/gabrielle-jackson-still-missing-two-days-after-her-disappearance

angelm07

Supreme Commander of the Universe With Cape AND Tights AND Fancy Headgear






Good news for Gabrielle Jackson's family arrived Friday morning. The 11-year-old girl who went missing after her mother took her from school on Monday afternoon has been found alive in California.


The Hazelwood Police Department
(HPD) is reporting that Gabrielle's mother, Cecilia Montez, has been
arrested and is in police custody. Gabrielle's father is headed to
California to pick her up and bring her home.


"She's been located in California were we assumed she'd be headed,"
said Hazelwood Police Sgt. Andy Eagan. "She's set to be reunited with
her father here shortly."
http://hazelwood.patch.com/articles/gabrielle-jackson-found-alive-in-california

kiwimom

Supreme Commander of the Universe With Cape AND Tights AND Fancy Headgear






---
Permissions in this forum:
You
cannot
reply to topics in this forum