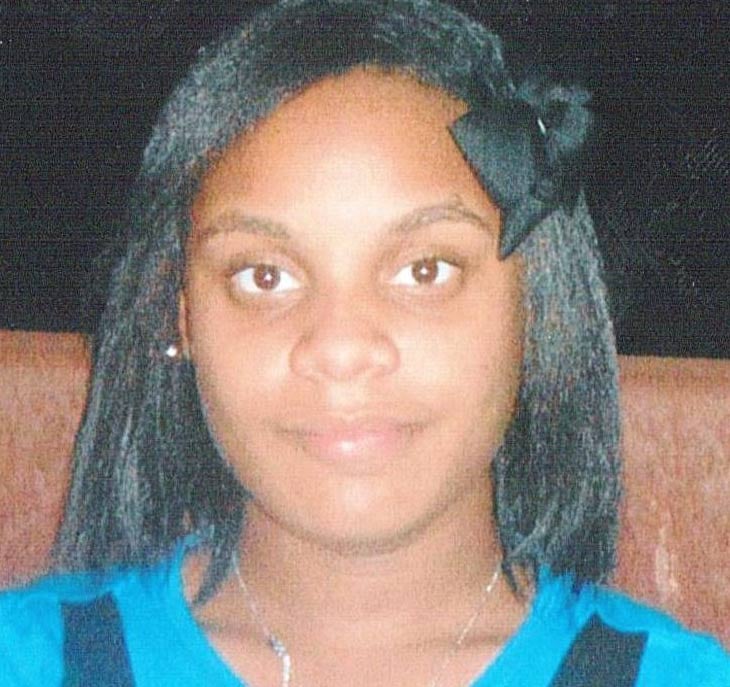 KANSAS CITY, KS (KCTV) -
The Kansas City, KS Police
Department is looking for a missing teen, and her mother fears she may
have been influenced by a man she met online.
Jamelia Newman, 13, was reported missing from her home near Rowland Avenue and Quindaro Boulevard.
Newman's mother told KCTV5 she is very concerned her daughter may have met a man online and he convinced her to run away.
The teen's mother said she always wakes her up in the morning, but she was
nowhere to be found when her mom went to wake her up Tuesday, and her
window was open and the gate was unlatched.
The teen is 5' tall and weighs roughly 85 pounds. She has black hair and brown eyes.
The police department's missing person's unit is encouraging anyone with
information about Newman's whereabouts to please call Detective Mark
Bundy at 913-573-6052 or the TIPS Hotline at 816-474-TIPS (8477).
http://www.kctv5.com/story/17518081/mother-fears-missing-teen-may-have-been-influenced-by-man-met-online

kiwimom

Supreme Commander of the Universe With Cape AND Tights AND Fancy Headgear







Watcher_of_all

Supreme Commander of the Universe With Cape AND Tights AND Fancy Headgear






Police said a missing teen has been found safe.
The teen's family called KCTV5's Betsy Webster shortly after noon Wednesday and tearfully let KCTV5 know Jamelia had been found.
Jamelia Newman, 13, was reported missing from
her home near Rowland Avenue and Quindaro Boulevard Tuesday. Family
members were all wringing their hands in worry and hoping for word that
she was found safe.
Every time the phone rang, Sherri Willis
hoped it was her daughter. Willis said she was concerned her daughter
may have met a man online, and he convinced her to run away.
"I'm nervous. I'm scared. I'm hurt, and I'm uncertain," Willis said earlier.
When police called and said the words "found safe" at a Kansas City park, Willis jumped to her feet and burst into tears.
Willis got to share a few precious minutes with her daughter before the teen underwent questioning.
"I hugged her and kissed her and just held
her tight," Willis said. "I was relieved and I was just thankful because
my prayers had been answered."
Jamelia's mother has many questions but also believes some of the answers can help out other parents.
Jamelia was excited Monday when she came home from middle school, proud to have made the honor roll yet again.
"I commended her on it, and we came home.
There was not anything out of the ordinary that would have made me think
that something was going on," Willis recalled.
Right before bed at 10:30 p.m. Monday, the exchange between Willis and Jamelia was the same as every night.
"I was standing in the kitchen last night,
and she came downstairs. She said, 'Mama, I'm going to bed now. I love
you.' And I said, 'OK. I love you too. Good night,'" Willis said.
When her mother came up at 6 a.m. Tuesday to
wake her, the bed was empty, a window was open and the bottom piece of
the storm cover was ripped off.
Then there was the gate.
"I was taking the trash out, and the gate was open," Jamelia's mom's fiancÚ, Robert Jones, said.
Jamelia's purse was still on her dresser.
Police upended the 13-year-old's room later that morning, going through her belongings for clues.
On her bedroom wall is a reminder of her best friend who took his own life Valentine's Day, something that troubled her.
Her mom and soon-to-be stepdad didn't know if she left on her own or was taken.
"Just whoever it is, they need to do the right thing," Jones said before Jamelia was dropped off at the park.
"If she is watching, I would like her to know
that we love her, that we are not mad at her, and we want her to come
home," Willis said when she spoke to KCTV5 Tuesday.
Jamelia's mom said her daughter left her cell
phone too, which added to her worry that her daughter would have a hard
time calling for help if she needed it.
Police had notified KCTV5 about the missing teen, which they rarely do unless there is a serious safety concern.
The reason police were concerned and
questioning Jamelia is because her family believe she left with an older
man. They don't know who he is or how he met Jamelia, but they want
police to find out so that the man can be prosecuted.
"I do want some justice. If it was somebody
that was older than her who had her, that's not OK," Willis said.
"That's not OK with me at all. They had the advantage over her. She's a
child just 13 years old."
She said she could have paid more attention
and listened to her daughter's words more carefully. She said she has
five children and it's tough to give them all enough attention. Her
daughter had told her mother that she didn't pay enough attention to
her.
"I took her for granted," Willis said. "I
just know when she comes home I'm going to do things differently and ask
God to show me what I can do to make sure this doesn't happen again. (I
want to be) the person she trusts more than somebody else out there."\
http://www.kctv5.com/story/17518081/police-missing-teen-found-safe

TomTerrific0420

Supreme Commander of the Universe With Cape AND Tights AND Fancy Headgear





Job/hobbies

: Searching for Truth and Justice




---
Permissions in this forum:
You
cannot
reply to topics in this forum