Apr 18, 2012 11:42 AM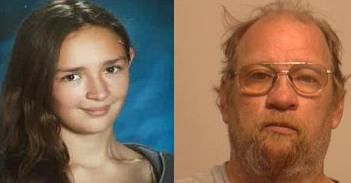 Carrie Lane Was Las Seen On Friday At Glover Middle School. Police Believe She May Be With Steve Tofte (Right)
SPOKANE, Wash.
- A 14 year old girl is still not at home tonight, now five days after
she went missing with an older man described as her uncle. Carrie Lane
left Glover School Friday with "Uncle" Steve Tofte. Carrie's family
believes the uncle kidnapped her and may have driven out of state. Tofte
is said to be driving a 1995-1999 red Dodge Durango.
Police say they have enough probable cause to
arrest Tofte with kidnapping, but no one knows where he is. Kim
Sullivan, Carrie Lane's mother, said her daughter is a straight "A"
student enrolled in honors classes and said she has never runaway
before. Police say even if Carrie wants to stay with this man, at 14
years old, she doesn't have the choice.
According to Sullivan (the mother), the
counselor at Glover School was the last one to see Carrie. The mother
says the counselor overheard her daughter talking on the phone Friday
with her uncle. The counselor heard Carrie ask him "if they were still
going to meet in their secret meeting place."
Kim used the word odd when describing her daughter's relationship with Steve Tofte.
"Being that he's 53 and she's 14, things just
started getting worse. He started texting her more. He bought her a
secret cell phone that I wasn't supposed to know about, he started
taking her pictures, they would go on hikes in the woods two hours at a
time by themselves when she would stay out there for the weekends," Sullivan said.
Sullivan said when she found this out she
immediately discontinued their relationship. Tofte was released from the
Airway Heights Corrections Center in January of 2010 after serving
eight years for robbery, burglary, forgery and drug charges.
http://www.khq.com/story/17518629/alex-sotry

kiwimom

Supreme Commander of the Universe With Cape AND Tights AND Fancy Headgear






Spokane, WA (KXLY/CNN)
- The mother of a missing 14-year-old in Washington state thinks the girl may have been kidnapped by her uncle.
Carrie Lane was last seen at her Spokane middle school Friday.
Lane was supposed to ride the bus home from Glover Middle School on Friday.
Her mother says a counselor heard Lane making other plans on the phone.
"The counselor overheard my daughter talking to her uncle asking him
if they're still going to meet in their secret meeting place," said her
mother, Kimberlee Sullivan.
Steve Tofte, 53, who is Lane's great-uncle by marriage, came into the
child's life two years ago when he was released from prison on non-sex
related crimes.
Sullivan thinks Tofte has been trying to have a romantic relationship
with her daughter, including secretly supplying her with a cell phone.
"My mother-in-law reassured me nothing was going on between the two
of them being that he's 53 and she's 14. And things just started getting
worse. He started texting her more. He got her a cell phone I wasn't
supposed to know about," said Sullivan.
She says she stopped letting her daughter hang out with her Uncle
Steve when she learned about the phone, but says Tofte started waiting
for her at school.
This weekend he reportedly broke into a relative's home near Eloika Lake, stealing camping gear and $300 in cash.
Police think she's been kidnapped and her mom is terribly worried.
"I just want my daughter safe at home with me where she belongs
instead of out with some psychotic guy who thinks he's going to make her
his own," said Sullivan.
Tofte served eight years in prison for robbery, forgery, burglary and drug charges.
http://www.ksdk.com/news/article/316628/28/Kimberlee-Sullivan-thinks-Carrie-Lane-was-kidnapped-by-Steve-Tofte

kiwimom

Supreme Commander of the Universe With Cape AND Tights AND Fancy Headgear






CUSICK, Wash.-- Spokane police plan to reunite a young teenager with
her family Friday after her family reported her missing last weekend.
Police said she was with a family friend, who the girl called an uncle.
U.S. Marshals, Pend Oreille County deputies, Stevens County deputies
and Spokane officers found Steven Tofte, 53, and Carrie Lane, 14, near
Cusick Thursday evening.
Officials spotted Tofte and the missing teen standing outside of the
suspectís vehicle in a parking lot in the Colville National Forest.
Tofte was armed with a shotgun at the time of his arrest, but
authorities took him into custody without incident. Lane was found safe.
Tofte will be booked into the Spokane County Jail for Felon Possession of a Firearm and other possible charges.
http://www.krem.com/news/local/Missing-teen-found-safe-girl-148238415.html

TomTerrific0420

Supreme Commander of the Universe With Cape AND Tights AND Fancy Headgear





Job/hobbies

: Searching for Truth and Justice





Similar topics
---
Permissions in this forum:
You
cannot
reply to topics in this forum