The Texas Department of Public Safety issued a statewide Amber Alert Saturday night for two missing McKinney children.
McKinney police are looking for 14-year-old Camren Anthony Guresh and his sister 10-year-old Kaitlyn Amber Guresh.
McKinney police are searching for
their father Craig Allen Guresh in connection with their alleged
abduction. Allen, 44, is 5 ft. 10 in. tall, with blue eyes and brown
hair. He may be driving a black Honda Accord with Texas license plate DL7J605.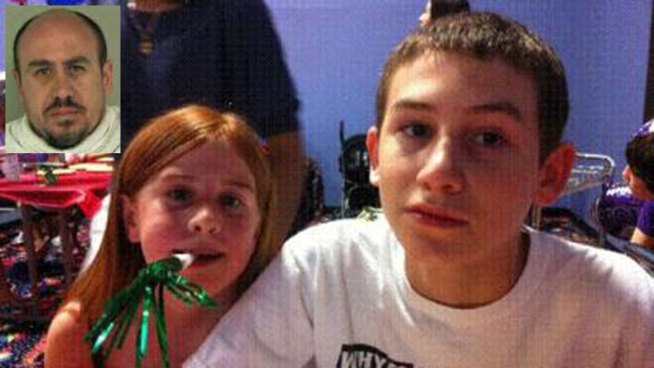 Camren weighs 80 lbs., stands 5 ft. 5 in. tall and has brown hair and brown eyes.
Kaitlyn is 4 ft. 6 in. tall and weighs 65 lbs. She has red hair and green eyes.
Police said they were last seen at 12:00 a.m. Saturday in the 3500 block of Copper Ridge Drive in McKinney.
McKinney police say Guresh and his
wife are involved in a custody dispute but police will not say whether
Craig Guresh took the children or if they left with their father
willingly. Police also won't say why they believe the children are in danger.
Anyone with information is asked to call 911.
http://www.nbcdfw.com/news/breaking/Amber-Alert-Issued-For-Missing-McKinney-Children-152180025.html

TomTerrific0420

Supreme Commander of the Universe With Cape AND Tights AND Fancy Headgear





Job/hobbies

: Searching for Truth and Justice



Well, it would seem that Daddy has been arrested before.
That would explain the mug shot they so easily came up with.
Maybe that's why they might be in danger. Ya think?

TomTerrific0420

Supreme Commander of the Universe With Cape AND Tights AND Fancy Headgear





Job/hobbies

: Searching for Truth and Justice



McKinney police canceled a nationwide Amber Alert Sunday evening
after the target of the serarch — 14-year-old Camren Guresh and her
10-year-old sister Kaitlyn — were found safe in Memphis, Tennessee.
The children were with their father, Craig Guresh, who did not have
legal custody of them. The elder Guresh was taken into custody.
The FBI had joined the search for the two children, who went missing
from their home in McKinney sometime after 10:45 Friday night.
"The blinds were pulled up higher. The window was open and the screen
was out on the ground," said the children's mother, Michele Bisconti,
as she walked News 8 through her home, including her son's room where
she believes her kids fled through a window.
"The thoughts that go through my head... I try not to go to those
places, but it's hard not to," Bisconti said before her children were
located. "It's hard not to think the worst."
She said this is the second time her estranged husband has been
accused of fleeing with their children in what has been a four-year
custody battle.
Bisconti said he took Camren and Kaitlyn in September of last year.
Four months passed before police found them in Missoula, Montana.
Guresh, 44, was arrested and charged with parental interference and
was due to appear at a court hearing in the case later this week in
Collin County.
Bisconti said Guresh hadn't seen the children in four months.
"That's why I think he'll do things differently this time — which is
why I fear for their lives more than before, because he wants to be with
them, I believe, at any cost," she said in an interview before her
children were found.
Arrangements were being made to reunite Bisconti with Camren and Kaitlyn.
http://www.wfaa.com/news/crime/Amber-Alert-mom-Its-hard-not-to-think-the-worst-152233095.html

TomTerrific0420

Supreme Commander of the Universe With Cape AND Tights AND Fancy Headgear





Job/hobbies

: Searching for Truth and Justice



Dad held on $1M bond for kidnapping children
By: Alice Wolke
Posted: May 21, 2012 11:35 AM CDT
Updated: May 21, 2012 11:36 AM CDT
McKINNEY, Texas -
A 44-year-old man is being held on a $1 million bond for allegedly kidnapping his two children from their mother's home in the dead of night.
McKinney police canceled the weekend Amber Alert for 14-year-old Camren Guresh and his 10-year-old sister Kaitlyn on Sunday, shortly after they were found with their father in Memphis, Tenn.
According to police, FBI agents spotted Craig Allen Guresh's vehicle at a hotel in Memphis. They watched the car until about 8 p.m., when they saw Guresh and the two children get in and drive away.
The FBI called the Memphis police department and had them pull Guresh's car over. After a brief chase, police say Craig Guresh stopped the car and tried to run away, but was captured. He's charged with felony kidnapping.
The two children were not hurt. They were put in protective custody until their mother could pick them up.
Camren and Kaitlyn disappeared from their McKinney home sometime between bedtime Friday and Saturday morning, according to their mother.
Michele Bisconti has full custody of her children, but has been in bitter court battles with Guresh ever since their divorce, according to court records.
Guresh took the children without permission once before, and was found a short time later in Montana.
There's no word on when Guresh may be extradited back to Texas.
http://www.myfoxdfw.com/story/18573058/dad-held-on-1m-bond-for-kidnapping-children

mom_in_il

Supreme Commander of the Universe With Cape AND Tights AND Fancy Headgear







---
Permissions in this forum:
You
cannot
reply to topics in this forum