Amber Alert

ACTIVE AMBER Alert: JAMIER RILEY – Burien,WA

Spread the Word.

Incident

SUSPECT STOLE FORMER GIRLFRIEND'S VEHICLE WITH HIS 7 MONTH OLD SON AND FORMER GIRLFRIEND'S 2 YEAR OLD SON INSIDE. SUSPECT HAS GANG AFFILIATION AND WEAPON USE. NO WEAPONS WERE OBSERVED AT THE TIME OF ABDUCTION.

Incident Date: 5/22/2012 12:30

Address 1: Burien Library 400 SW 152nd Street
City: Burien
State: WA

Victims

JAMIER RILEY (no photo available)
Name: JAMIER RILEY
Hair: Unknown
Eyes: Unknown
Ethnicity: Black
Age: 7 Month(s) old
Height: 0ft 0in
Weight: 0
Gender: Male
Description: No Information Provided
Subject Believed to be Wearing : No Information Provided

JERMIAH WATKINS (no photo available)
Name: JERMIAH WATKINS
Hair: Unknown
Eyes: Unknown
Ethnicity: Black
Age: 2 Year(s) old
Height: 0ft 0in
Weight: 0
Gender: Male
Description: No Information Provided
Subject Believed to be Wearing : No Information Provided

Suspect
MICHAEL RILEY (no photo available)
Name: MICHAEL RILEY
Hair: Unknown
Eyes: Brown
Ethnicity: Black
Age: 23 Year(s) old
Height: 5ft 10in
Weight: 150
Gender: Male
Description: No Information Provided

Vehicle
no photo available)
Year: 1994
Make: LEXUS
Model: GS300
Color: Green
License State: WA
License Text: 299uom
Description: No Information Provided

http://www.amberalert.com/alerts/8DC2AA93F04C77ABEF9C43DDEF1428D2/

mom_in_il

Supreme Commander of the Universe With Cape AND Tights AND Fancy Headgear






Amber Alert issued after kids taken from Burien

By KOMO Staff
Published: May 22, 2012 at 2:01 PM PDT

SEATTLE -- An Amber Alert has been issued after two children were taken from the parking lot of Burien Library on Tuesday afternoon.

King County sheriff's spokesperson Cindi West said Michael Riley, III stole his former girlfriend's car while it was parked at the library, located at 400 SW 152nd St., at approximately 1 p.m. Inside the car were Riley's son, 7-month-old Jamier Riley, and another child, 2-year-old Jermiah Watkins.

Detectives are now looking for a green 1994 Lexus with Washington state license plate 299UOM.

Riley, 23, is described as 5-foot-10 and approximately 150 pounds. Riley and both children are black.

It is not known where Riley may be headed. Investigators said he is known to have gang affiliations and has been tied to weapons use in the past.

Photos were not yet available.

http://www.kval.com/news/local/Amber-Alert-to-be-issued-after-kids-taken-from-Burien-152681505.html

mom_in_il

Supreme Commander of the Universe With Cape AND Tights AND Fancy Headgear






JEREMIAH WATKINS . . . . and . . . . JAMIER RILEY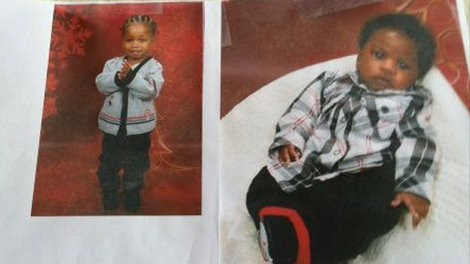 Credit: KING / Elisa Hahn
http://www.king5.com/news/local/Police-preparing-Amber-Alert-for-missing-boy-152681105.html

mom_in_il

Supreme Commander of the Universe With Cape AND Tights AND Fancy Headgear







mom_in_il

Supreme Commander of the Universe With Cape AND Tights AND Fancy Headgear







Update: AMBER Alert for Cancelled for Children Abducted in Burien
The two boys were found safe in SeaTac Tuesday afternoon.
3:13 pm
An image of the stolen car associated with an Amber Alert Tuesday, May
22 in which Michael Riley III is wanted for abducting two children from
Burien.
(King County Sheriffs Office)
UPDATE 6 p.m.: The two boys were found safe around 4:30 p.m. in
SeaTac on Tuesday. They were in Michael Riley's custody and he appeared
to be high on crack cocaine and was carrying a loaded gun, according
to a report from KOMO News. The man was taken into police custody and awaits charges.


BURIEN-- An AMBER Alert has been issued for two young children who
were taken from the Burien Library parking lot on today, Tuesday, May
22.
Police believe that 23-year-old Michael Riley III stole his former
girlfriend's car around 1 p.m. while it was parked at the Burien
Library, located at 400 SW 152nd St. Inside the car were Riley's
7-month-old son Jamier Riley and another child, 2-year-old Jermiah
Watkins.
Riley has a history of gang affiliation and weapons use, but no
weapons were observed during the abduction. He is described as an
African American male, approximately 5-foot-10 and 150 pounds.
He drives a green 1994 Lexus with Washington State license plate 299UOM.
It is not known where Riley may be headed.
Anyone with information on the trio's or the car's whereabouts is urged to call 911 immediately.
http://enumclaw.patch.com/articles/amber-alert-issued-for-two-young-children-taken-from-burien-library-987140fa


twinkletoes

Supreme Commander of the Universe With Cape AND Tights AND Fancy Headgear





Job/hobbies

: Trying to keep my sanity. Trying to accept that which I cannot change. It's hard.



---
Permissions in this forum:
You
cannot
reply to topics in this forum