August 2, 2012
Family searches for missing teen
ó A Muskogee family is asking for the publicís help to find their missing teenager.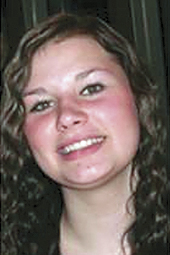 Laynnye Lea Duggan, 17, was reported missing by her family Sunday afternoon, according to police reports.
Laynnye was last seen at 11th and Boston streets getting into a red Chevrolet extended cab pickup, said her mother, Sherrye Duggan. Her family has not had any contact with Laynnye since.
Laynnye is approximately 5 feet 2 inches tall, weighs about 130 pounds, has medium blonde hair and hazel eyes.
Anyone with information on Laynnyeís whereabouts can call the Muskogee Police Department, (918) 683-8000 or her mother, (918) 680-0552.
http://muskogeephoenix.com/local/x1962237654/Family-searches-for-missing-teen

mom_in_il

Supreme Commander of the Universe With Cape AND Tights AND Fancy Headgear






MuskogeePhoenix.com, Muskogee, OK
02/03/2013
Muskogee High School honor rolls
ó
Muskogee High School announced the names of students who qualified for
the Superintendentís and Principalís Honor Rolls for the first semester
of the 2012-2013 school year.
A grade point average of 3.67 to 4.0 is required for the
Superintendentís Honor Roll. Students named to the Principalís Honor
Roll have attained a grade point average of 3.0 to 3.66.
Principalís Honor Roll
ē Seniors ó Ayanna Kamari Ture, Jefferson Caleb Moore, Emily Michelle
Riley, Darius Eddie Winn, Dionte Amon Harris, Michael Anthony Nicodin,
Megan Rebecca Briggs, Kaleigha Ayanna Fields, Danielle Marie Roland,
Krystal Renee Gray, Geoffrey Steven Wall, Mataya Breane Combs, Eva
Rhiannon McKay, Brandon Dale Carter, Jíliyah Danyale Tillman, Tonny
Briana McBride, Jada Nicole Morgan, Marisol Martinez Tapia, Ashleen Kay
Towe, Michael Anthony Nelson, Sam R.J. Williams, Jami Chellene Parmley,
Ashley Nicole Degenhardt, Raundel Edward Cooper, Paige Alexandria Green,
Sarah Jean Boettcher, Cathy Tran Nguyen, Julie Ruth Lawrence, Mylie
Brooke Leatherman, Diana Laura Velazquez, Brittney LeAnne Dinardo,
Kenadee Lizann Hughes, Madison Paige Gann, Michaíla Briann Gaulden,
Angela Dawn Hayes, Jasmine Bell Lawrence, Tori Alexis Turner, Carshena
Mallay Howard, Kaylee Dawn Curry, Benjamin Wiley Jackson, Alexus Shalay
Wilson, Donovan McKenney Casey, Dillon Alexander Rice, Eric William
Skulich, Jacob Clare Hiller, Kelsey Renae Faulconer, Alena Tanae Darden,
Joshua Michael Robinett, Cartisha Farniece Ballard, Payton Leigh
Bradley, Lashai Nicole Nunley, Jameia Lanae Correll, Carlesia Hamm,
Rachel Ann Leppke, Marissa Cheyenne Lewis,
Laynnye Lea Duggan
,
Demontrion Leon Davenport, Shylah Marie Pashica, Hannah Delmira Colina,
Charity Guinn, Shae Lyne Quesenberry and James Wesley Thompson.
http://muskogeephoenix.com/local/x503841371/Muskogee-High-School-honor-rolls/print

angelm07

Supreme Commander of the Universe With Cape AND Tights AND Fancy Headgear








Similar topics
---
Permissions in this forum:
You
cannot
reply to topics in this forum