6-Year-Old Girl Missing After Being Taken For Walk By Non-Custodial Mom
August 15, 2012 8:42 AM
CALUMET PARK, Ill. (CBS) — Police are searching for a 6-year-old girl whose non-custodial mother took her for a walk in Calumet Park and never returned.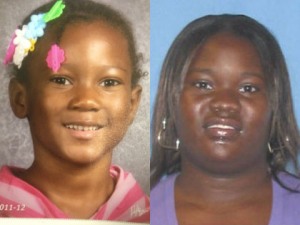 Ariyah Bohannon is described as an African-American girl standing 4 feet tall and weighing 35 pounds, with a black braided pony tail and brown eyes. She was last seen wearing a pink, white, and yellow striped tank top with a solid pink back, and pink sandals with butterflies.
Ariyah's grandmother is her legal custodian. But her mother took her out for a walk from the grandmother's Calumet City home Tuesday night and did not come back.
Ariyah's mother, Zetra Bohannon, is described as a 22-year-old African-American woman standing 5 feet 9 inches tall and weighing 250 pounds, with black hair and brown eyes. She was last seen wearing a black and white zebra-print top, stretch pants and sandals.
They were last seen walking east from the grandmother's residence in the 1400 block of West 123rd Street in Calumet Park.
Calumet Park police initially requested an Amber Alert, but the alert was overridden by Illinois State Police, who are classifying the case as an endangered missing juvenile.
http://chicago.cbslocal.com/2012/08/15/6-year-old-girl-missing-after-being-taken-for-walk-by-non-custodial-mom/

mom_in_il

Supreme Commander of the Universe With Cape AND Tights AND Fancy Headgear






Calumet Park girl, 6, found safe in Chicago
August 16, 2012 (CHICAGO) (WLS) -- Police say a 6-year-old girl who was missing from her suburban Calumet Park home has been found safe in Chicago.
Ariyah Bohannon and her mother, Zetra, were found on the city's South Side. Family members were concerned the girl was in danger because they say the mother has a long history of aggression and substance abuse.
The girl has lived with her great-grandmother since she was 3-months old.
http://abclocal.go.com/wls/story?section=news/local&id=8776090

mom_in_il

Supreme Commander of the Universe With Cape AND Tights AND Fancy Headgear







---
Permissions in this forum:
You
cannot
reply to topics in this forum