FBI Searches for Missing Teenager
Kaelynne Paez, 13, was last seen Sunday morning in Heber, Calif.
By Monica Garske and Tony Shin
Thursday, Sep 13, 2012
Updated 7:50 AM PDT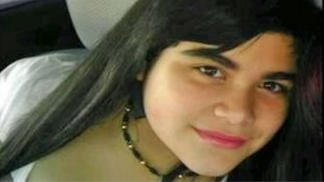 The Federal Bureau of Investigation is seeking the public's help in locating a missing teenager, authorities confirmed Wednesday.
FBI Special Agent Darrell Foxworth with the FBI field office in San Diego said investigators are looking for 13-year-old Kaelynne Paez, a teen from Heber, Calif.
According to the FBI, Paez was last seen on the morning of Sept. 9 near Heber Avenue in Imperial County.
"Her family hasn't had any contact with her, so there is a lot of concern with her well-being, where she may be who she may be with," Foxworth told NBC 7 San Diego Wednesday night.
Foxworth wouldn't go into details, but says Paez may have met someone online.
NBC 7 did some digging and found several online profiles on adult dating websites that may have been created by Paez.
One profile featuring a photo that resembles Paez also includes this quote in the "About Me" section: "I'm Kaelynne…I love to box, play basketball, hang out, meet new people and yeah I'm single."
That profile also claims she's 19 years old, lives in El Centro and is interested in meeting men between the ages of 18 and 25.
"There have been situations in the past, cases that have been investigated here in San Diego that the FBI's been involved in where you have a teenager that meets someone, [they] go away with them and when they are ready to leave, they find out, I can't leave," said Foxworth.
Investigators said it's possible that Paez may have been targeted by an online predator and could be in the company of someone she doesn't really know. That's why federal authorities are desperately trying to find the teen.
"We just want to find her and reunite her with her family, make sure she is okay," added Foxworth.
Investigators describe Paez as a Hispanic, 5-foot-5 female, weighing 150-pounds. She has black hair and brown eyes.
Anyone with information on her whereabouts should immediately contact authorities.
Check back for updates on this story.
http://www.nbcsandiego.com/news/local/FBI-Searches-for-Missing-Imperial-County-Teenager-169564136.html

mom_in_il

Supreme Commander of the Universe With Cape AND Tights AND Fancy Headgear







Missing California teen located safely
From Darrell FoxworthFBI/San Diego, CAUpdated 1:45pm CST, September 18th, 2012
(SAN DIEGO, CA) — The FBI has announced the safe recovery of
Kaelynne Paez
, age 13, of Heber California, on Sunday, September 16, 2012.
Paez was recovered by Los Angles Police Department (LAPD) officers
early Sunday morning, September 16, 2012, based on information provided
by FBI agents. Paez was located in a Los Angeles residence. Paez has
been reunited with her family in Heber, California.
The investigation is ongoing. No arrests have been made at this time.
http://missingpersonsnews.com/missing-california-teen-located-safely/

angelm07

Supreme Commander of the Universe With Cape AND Tights AND Fancy Headgear







---
Permissions in this forum:
You
cannot
reply to topics in this forum