Items belonging to missing teen found in Mint Hill pond
by WCNC.com Staff and The Charlotte Observer
Posted on December 10, 2012 at 12:54 PM
Updated today at 7:14 PM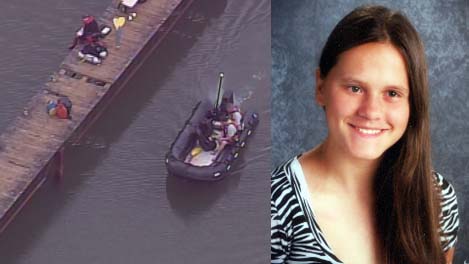 MINT HILL, N.C. -- Police and fire units located items belonging to a missing Mint Hill teen in a nearby pond on Monday afternoon, but further details are hard to come by.
The search began about 10:30 a.m. at a pond on Pumpkin Way Drive. That is a short distance east of Interstate 485, near the interchange with N.C. 51 and south of Albemarle Road.
Police say they found a bike, cell phone and a bike hat in the pond belonging to missing 16-year-old Kayla Campbell.
Officials released few other details, however, and it's still unclear if she was abducted.
The girl's father says his daughter was last seen at the family's home around 2:30 Sunday afternoon.
Kayla is described as 5-foot-6, weighing 115 pounds, with long brown hair and blue eyes.
According to radio reports, a fire department dive team was called to the pond around 11 a.m. The team arrived about 11:30 a.m. and was in the water a short time later.
Other units were using boats to search. The search concluded before 3:30 p.m. Monday.
Five fire trucks, a number of Mint Hill police cars and a Medic van were parked near the pond.
Campbell lives about a quarter-mile from the search scene.
Around 6 Sunday evening, police responded to a residence in the 9000 block of Dartmoor Place in reference to a teen girl who had not returned home.
http://www.wcnc.com/home/Police-fire-units-searching-Mint-Hill-pond-182844661.html?gallery=y&img=0&c=y
Last edited by mom_in_il on Tue Dec 18, 2012 3:24 pm; edited 1 time in total

mom_in_il

Supreme Commander of the Universe With Cape AND Tights AND Fancy Headgear






Kayla Campbell Update: Body of missing North Carolina teen found in pond, report says
Kayla Campbell / WBTV
By Roomie Huh
(CBS) - Police said the body of 16-year-old Kayla Campell was found in a pond early Thursday, four days after she was last seen leaving her North Carolina home, CBS affiliate WBTV reports.
Campbell was last seen at her house around 2:30 p.m. Sunday. Officers were called to the home later that evening when Kayla's father said she didn't return home for her curfew.
Authorities are still investigating the circumstances of her death. Her body was found near Mint Hill after investigators drained the pond.
Investigators said they installed four water pumps Wednesday afternoon after receiving an offer from a local contractor to drain the pond. Police Chief Tim Ledford said they haven't received a specific tip about the pond in connection to Kayla's disappearance, but they wanted to cover their bases.
The discovery of Kayla's body was made after four days of exhaustive search both on land and on water. Federal agents joined the investigation Tuesday morning after police found Kayla's belongings near the Mint Hill pond, and the bureau's cyber forensic team went over Kayla's cell phone and computer for any possible leads.
Investigators searched the Mint Hill pond for several hours on Monday, and conducted a second search of the land surrounding the pond on Tuesday. More than two dozen firefighters and police officers went out in a wooded area to look for the missing teen, WBTV reported.
Detectives also retraced phone numbers and called people Kayla has spoken to over the weekend after she reportedly called home moments before her curfew to say she was five minutes away but never showed up.
Meanwhile, family and friends conducted their own search for the missing teen, fanning out in the Mint Hill area and passing out posters and flyers.
"She's a great kid, couldn't ask for a better sister," said Kayla's brother, Josh Campbell. "All we want right now is for her to come home safe and unharmed."
Josh admitted that Kayla was battling depression, but things were looking up.
"Kayla was getting better," he said. "She was working with professionals who were getting her the helps she needs and she was getting better."
Detectives have reportedly said they don't suspect foul play, but are running down every lead to figure out the circumstances of her disappearance.
Dozens came out for candlelight vigil for the missing teen on Tuesday night when friends, family and strangers gathered near the pond to support Kayla's family.
"There's a lot of caring people in Mint Hill. I just think they were feeling like me thinking it could have been their child," said Mindi Gerrard, who organized the vigil.
Ten extra grievance counselors were on hand Thursday at Independence High where Kayla attended school. Students and faculty members will wear yellow ribbons this Friday to honor her memory.
http://www.cbsnews.com/8301-504083_162-57558965-504083/kayla-campbell-update-body-of-missing-north-carolina-teen-found-in-pond-report-says/
Sad. I was hoping they would find her alive. I hope this does not go to the murder section. William

willcarney

Supreme Commander of the Universe With Cape AND Tights AND Fancy Headgear





Job/hobbies

: NEVER assume your child is safe, KNOW.





Similar topics
---
Permissions in this forum:
You
cannot
reply to topics in this forum