Amber Alert issued for missing NC child
By
WCTI Staff
POSTED: 8:27 PM Dec 13 2012
UPDATED: 11:39 PM Dec 13 2012
Picture of Karen Gardner Joyce
RALEIGH -
The Hoke County Sheriff`s Office is searching for a missing child: Pacen Ryan Joyce.
Pacen Ryan Joyce is a 12-year-old Black male, approximately 4 feet 0 inches tall,
weighing 70 pounds. He has black hair, and brown eyes. Last seen wearing
a blue t-shirt and navy blue jogging pants.
Allegedly, there is 1 abductor: Karen Gardner Joyce. She is the woman seen in the
photo above. Karen Gardner Joyce is described as 46 years old, white,
female, 5 feet 1 inch tall, weighing 110 pounds. She has blonde hair and
blue eyes. Last seen wearing a tan sweater and jeans. Subject has short
straight blonde hair parted in the middle.
Abduction occurred at 175 Secretariat Court, Raeford, NC The vehicle is a Black
2011 Mazda 3I with NC license tag number BEE7151.
http://www.wcti12.com/news/Amber-Alert-issued-for-missing-NC-child/-/13530444/17771572/-/14ldoed/-/index.html

twinkletoes

Supreme Commander of the Universe With Cape AND Tights AND Fancy Headgear





Job/hobbies

: Trying to keep my sanity. Trying to accept that which I cannot change. It's hard.



Missing Hoke County child found safe
Friday, December 14, 2012
RAEFORD, N.C. (WTVD) -- An Amber Alert for a missing 12 year old was canceled late Thursday evening after the boy was found with his mother.
The Hoke County Sheriff's Department issued an Amber Alert for Pacen Ryan Joyce around 7 p.m. They said 46-year-old Karen Joyce took her son from school and that the boy was not safe with her.
Karen Joyce is involved in a Department of Social Services investigation and officials said they decided it was best if Pacen was put under someone else's care.
Shortly before 11 p.m., Joyce and her son were found at her home on Secretariat Court in Raeford after receiving a tip. Authorities said Pacen was unharmed.
Joyce claimed she had no idea authorities statewide were looking for her son.
After Joyce picked her son up from school, she said her son called 911 when she had an alleged domestic dispute with her husband.
"Look at my arm, look at what my husband did ... my husband did this to me and then my daughter says 'Take the kid, take the 12-year-old kid,'" Joyce told ABC11. "And I didn't do anything wrong!"
Her son has been taken into DSS custody.
A custody hearing over the 12 year old is set for next week.
http://abclocal.go.com/wtvd/story?section=news/local&id=8919634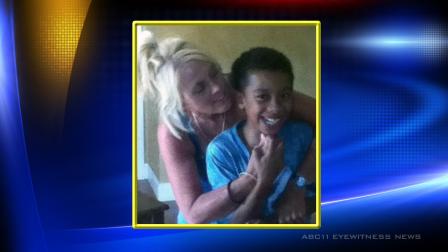 I wonder why they took her son from her? They look very happy in the picture.

ladibug

Supreme Commander of the Universe With Cape AND Tights AND Fancy Headgear





Job/hobbies

: Collecting feral cats




---
Permissions in this forum:
You
cannot
reply to topics in this forum