Amber Alert issued for missing 2-month-old Humble girl
Sunday, February 10, 2013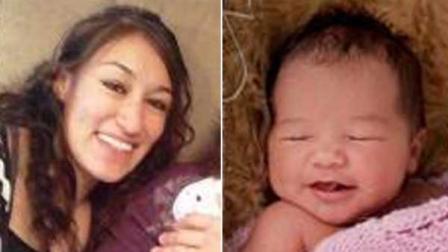 According to Humble police, Rayden Dominguez is believed to be with Silvia Menchaca, her biological mother.
HUMBLE, TX (KTRK) -- Humble police have issued an Amber Alert for a missing 2-month-old child.
The alert is for Rayden Dominguez. She's believed to be with her biological mother, Silvia Menchaca. Menchaca was last seen with the baby in Humble Saturday around 7pm.
Rayden Dominguez is around 11 pounds and has dark brown hair and a strawberry birthmark on her upper lip.
Menchaca is five feet, six inches tall and weighs approximately 120 pounds. She has dark brown hair. She has a Marine emblem tattoo on her lower back with "Dillon" underneath.
Police say Menchaca suffers from depression, but is off her medication and the child is believed to be in danger.
Anyone with information about the suspect or child is asked to call the Humble Police Department immediately at: 281-446-7127.
http://abclocal.go.com/ktrk/story?section=news/local&id=8987990

mom_in_il

Supreme Commander of the Universe With Cape AND Tights AND Fancy Headgear






Posted: Friday, March 1, 2013 11:44 am
The Humble Police Department has cancelled the Amber Alert issued on Feb. 10 for 2-month-old Rayden Dominguez. The suspect, Silvia Menchaca, the baby's mother, called the baby's father to report that she and they baby are both safe in Mexico.
http://www.yourhoustonnews.com/humble/news/update-amber-alert-cancelled-for-infant-missing-from-humble-since/article_a8d67954-8297-11e2-8b18-0019bb2963f4.html

ladibug

Supreme Commander of the Universe With Cape AND Tights AND Fancy Headgear





Job/hobbies

: Collecting feral cats




---
Permissions in this forum:
You
cannot
reply to topics in this forum