twinkletoes

Supreme Commander of the Universe With Cape AND Tights AND Fancy Headgear





Job/hobbies

: Trying to keep my sanity. Trying to accept that which I cannot change. It's hard.



Update: Kidnap-Assault Suspect Dropped Baby off Before Being Captured, Officials Say


The search may have ended in Vista, where 42-year-old Kenneth Welch was reportedly seen after allegedly kidnapping his 5-month-old son and attempting to kill his girlfriend.
Posted by
Roy Rivenburg
(Editor), June 18, 2013 at 04:55 pm
Story by City News Service, posted by Roy Rivenburg.


A parolee allegedly beat his girlfriend severely near their Pauma Valley home early Tuesday before fleeing with their 5-month-old son and threatening to do harm to him, prompting an eight-hour manhunt that ended with the father's arrest and the safe recovery of the baby.
Deputies investigating a reported domestic dispute shortly after 1:30 a.m. found the battered woman, whose name was not released, in a neighborhood off the 22000 block of State Route 76, sheriff's officials said.
The victim told investigators her boyfriend, 42-year-old Kenneth Wayne Welch, had attacked her during an argument as they sat with their son inside a parked vehicle in the area, not far from their home on the La Jolla Indian Reservation, Lt. James Bolwerk said.
The badly hurt woman managed to escape and run off, after which Welch drove away with the child, also named Kenneth, Bolwerk said. Medics took the victim to a hospital for treatment of serious injuries to her head and face.
Authorities, meanwhile, issued a statewide child-abduction alert while trying to locate Welch, who was believed to be armed with a knife, a threat to the baby and possibly suicidal, according to the California Highway Patrol.
Several hours later, a relative of Welch's who lives in Oceanside called the police to report that the suspect had dropped off the infant and then left, the lieutenant said. The child, who was unharmed, was taken into protective custody.
Shortly before 10 a.m., deputies spotted Welch driving through western Vista. Following a brief road and foot chase, they arrested him in the 1100 block of Marine View Drive, just east of South Melrose Drive, Bolwerk said.
Welch was booked into the Vista Detention Facility on suspicion of attempted murder, assault, child endangerment, domestic violence, evading police and violating conditions of his parole. He was being held without bail pending arraignment, scheduled for Thursday afternoon.
http://oceanside-camppendleton.patch.com/groups/police-and-fire/p/kidnapassault-manhunt-ends-with-capture-of-suspect

twinkletoes

Supreme Commander of the Universe With Cape AND Tights AND Fancy Headgear





Job/hobbies

: Trying to keep my sanity. Trying to accept that which I cannot change. It's hard.



Bail Set at $1M for Parolee Accused of Fleeing With Baby

Kenneth Welch, 42, sparked a statewide Ambert Alert Tuesday after taking off with his son in a pickup truck
|  Thursday, Jun 20, 2013  |  Updated 3:55 PM PDT
Kenneth Welch's black pickup truck was found in Vista Tuesday after he fled Valley Center with his 5-month-old son in the vehicle, sparking a statewide Amber Alert. The child was found safe.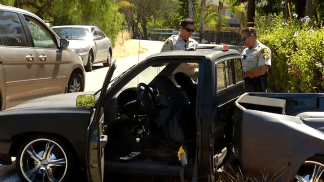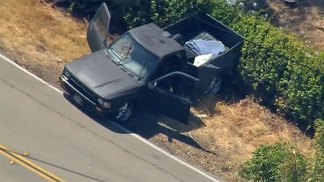 A judge has set bail at $1 million for a parolee who sparked a
statewide Amber Alert
on Tuesday after driving away from Valley Center with his 5-month-old son.
Kenneth Welch
, 42, is accused of allegedly trying to run over his girlfriend and the mother of his son with his black Toyota pickup truck and then taking off with the infant.
Authorities
issued an Amber Alert immediately after Welch took the baby,
and he was captured and detained a short time later near Mar Vista Drive in Vista. Deputies
found his truck
parked in the area first, and then located Welch about a block away from the vehicle.
Deputies said the baby was also found safely, but officials did not release details about where, exactly, they located the child. The baby's mother sustained several injuries, but is expected to recover.
Deputies said Welch is a high-risk parolee who has served time in prison. Officials believed he was armed, dangerous and under the influence of methamphetamine when he took off with the infant on Tuesday.
On Thursday, Welch appeared in court for his arraignment. He faces multiple charges including violation of parole, attempted murder, child cruelty and evading police.
According to Deputy District Attorney Keith Watanabe, Welch and his girlfriend got into an argument that escalated into a physical fight in the car on Tuesday.
Watanabe said Welch began grabbing the victim's hair, pushed her head down into the center console and then struck the victim in the face and head with a weighted sap -- a small, weighted device sometimes used by law enforcement.
The deputy DA said Welch allegedly threatened to kill the victim numerous times during the attack.
Eventually, the victim got out of the car and walked down the road. Watanabe said that's when Welch drove his truck towards the victim, and she jumped out of the way. Welch then fled the scene.
Watanabe said the baby boy was later found safely by deputies at Welch's sister's house. Further details about how the infant got there were not released, as the investigation is pending.
The deputy DA said Welch had allegedly attacked his girlfriend on numerous occasions, but she had never reported the abuse to authorities before Tuesday.
Watanabe said Welch has three prior strikes on his criminal record dating back a number of years including robbery, intimidating a witness and assault with a deadly weapon.
Due to his criminal history, Watanabe said the parolee faces at least 25 years to life if convicted of these recent charges.
Welch entered a not guilty plea Thursday. He's due back in court on Jun. 28 for a readiness hearing and then again on Jul. 2 for a preliminary hearing.
http://www.nbcsandiego.com/news/local/Bail-Set-at-1M-for-Parolee-Amber-Alert-Suspect-Kenneth-Welch-212392321.html

twinkletoes

Supreme Commander of the Universe With Cape AND Tights AND Fancy Headgear





Job/hobbies

: Trying to keep my sanity. Trying to accept that which I cannot change. It's hard.




---
Permissions in this forum:
You
cannot
reply to topics in this forum