Police Say Search Continues For Missing 6-Year-Old Ohio Girl
Reported by: Send eMail Bethany Simmons
Reported: Jul. 26, 2013 8:00 AM EDT
Updated: Jul. 26, 2013 1:26 PM EDT
Jackson , Jackson County , Ohio
The search continues for a missing Ohio girl Friday.
Macey Hannah Stewart, 6, of Jackson Ohio was reported missing about 2 a.m. Friday from her home at 207 North Chestnut Street, a Jackson County police dispatcher said.
A teenager was reportedly watching Stewart when he went inside the residence to get something and when he came back, he said she was gone.
Stewart's father was apparently home at the time, but her mother was in jail in an unrelated instance, the police dispatcher said.
Macey is a white female, about three feet tall, 50 pounds, with blue eyes and shoulder length dirty blonde hair.
Search dogs and police were on the ground in Jackson Friday morning and a helicopter was expected to be part of the search later in the day.
If you have any information that could help police find Macey Stewart, call 740-286-4131.
http://www.wchstv.com/newsroom/eyewitness/130726_17845.shtml

mom_in_il

Supreme Commander of the Universe With Cape AND Tights AND Fancy Headgear






Child missing in City of Jackson
Posted: Friday, July 26, 2013 8:17 am
Updated: 1:35 pm, Fri Jul 26, 2013
By Felicia Tackett Times-Journal Writer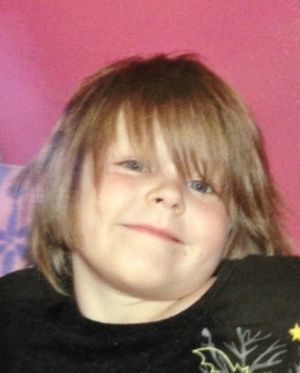 Macy Stewart
JACKSONó The Jackson Police Department (JPD), and other area law enforcement agencies continue to investigate the disappearance of a seven-year-old girl who was last seen at her home located at 207 North Chestnut St.
JPD received a call at 2:10 a.m. Friday morning from Frank Stewart Sr., claiming that his daughter, Macey Stewart, was last seen about 1:30 a.m.
According to Jackson Police, Stewart claimed some other males and he had gone to a nearby gas station to pump up a tire and left Macey on the front porch with a 15-year-old male. When they returned, the teen reported Macey had disappeared. The police were notified and the search began.
Macey's mother, Brenda Stewart, is currently incarcerated on unrelated charges.
At 9 a.m. area law enforcement agencies continued to comb the areas surrounding the Stewart home, but had not been able to locate Macey by that time. Just before noon on Friday, officials expanded the search to include creeks and bodies of water.
Police K-9 units are assisting with the search, while other officers interview friends and family for more information.
Macey is described as being approximately 3 feet 6 inches tall, weighing 50 pounds and has blonde hair and blue eyes. She was last seen in a one piece black swimsuit, with a yellow flower on the front and is believed to not be wearing any shoes.
Jackson Police Chief Carl Eisnaugle issued a press release at approximately 12:30 p.m. Friday with the following information:
"Jackson Police Chief Carl Eisnaugle announced Friday that his officers, in conjunction with the Jackson County Sheriff's Office, Jackson Fire Department, Jackson County Emergency Management Agency, the Ohio State Highway Patrol, and District 7 Water Rescue, are trying to locate the whereabouts of Macey Stewart, a seven-year-old girl who was last seen at 1:30 a.m. Friday morning at her residence on Chestnut Street in Jackson."
The release concluded with: "Chief Eisnaugle said the matter is an active investigation and no arrests have been made in connection with the disappearance. He added that a number of people are currently being questioned concerning the child's disappearance."
At approximately 12:40 p.m. on Friday Greg Ervin the Public Information Officer for Jackson County, released the following information about the disappearance of Macey Stewart.
"I want to reiterate this is an active search and rescue mission to find 7-year-old Macey Stewart," Ervin stated. "The search will continue until we locate Macey."
Ervin named a few additional emergency responders that are assisting in the search, such as the Coalton Fire Department, Wellston Fire Department, Red Cross, and three Ohio Special Response Teams from Mansfield, Delaware and Jackson.
Ervin indicated this is currently a missing child case, not an abduction, and that several people are being questioned in connection with the case. He also re-afirmed that additional manpower is not required at this time.
Local residents should know that part of Chestnut Street is blocked off with crime scene tape as law enforcement agencies continue this investigation.
Anyone with information about Macey's disappearance should contact the Jackson Police at 286-4131.
Various media sources are giving different accounts of what happened at the time of Macey's disappearance. The Jackson County Times-Journal gained information from the Jackson Police Department, the lead agency in this investigation.
When asked about why an Amber Alert has not been issued, the Jackson Police responded they have not determined that this is an abduction case.
http://www.jacksoncountydaily.com/news/article_6b95304a-3e91-5b95-a539-446fc64bd1b2.html

mom_in_il

Supreme Commander of the Universe With Cape AND Tights AND Fancy Headgear






†
UPDATE:
Authorities locate missing 6-year-old girl
Posted: Jul 26, 2013 2:37 PM EST Updated: Jul 26, 2013 5:00 PM EST
A 6-year-old girl reported missing from Jackson, Ohio has been found.
An endangered missing child alert was issued for Macey Hannah Stewart, 6, after she was last seen at noon on Friday on Chestnut Street.
Authorities say by 4:45 p.m., Stewart had been located. No further details were available.
Jackson is about 120 miles east of Cincinnati.
http://www.wxix.com/story/22942164/update-macey-hannah-stewart-6-located-after-missing-alert

ladibug

Supreme Commander of the Universe With Cape AND Tights AND Fancy Headgear





Job/hobbies

: Collecting feral cats




---
Permissions in this forum:
You
cannot
reply to topics in this forum