Amber Alert issued for 2-week-old baby; Suspect may be in SoCal


Wednesday, November 06, 2013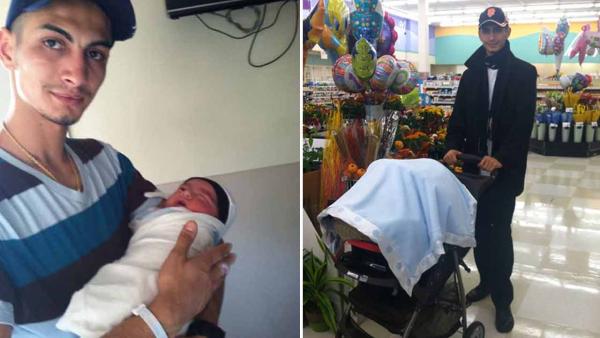 SUNNYVALE, Calif. (KABC) -- An Amber Alert was issued after a father allegedly kidnapped his 2-week-old baby from Sunnyvale in Santa Clara County Tuesday. Authorities say the infant could be in serious danger.
Henry Guler-Romero was taken by 22-year-old Mesut Gutler from an apartment complex around 4 p.m. Gutler allegedly got into an argument with the baby's mother and fled with the infant, claiming he was leaving the state.
Authorities believe the suspect may be in Southern California.
A "ping" from the suspect's cellphone was tracked near the 805 Freeway and Balboa Avenue in the community of Kearny Mesa in San Diego at 11:55 p.m. Tuesday.
Within hours, two reports of unconfirmed sightings of his vehicle were also reported. His vehicle, however, has not been located.
Gutler is believed to be driving a tan 2004 GMC Envoy with the California license plate No. 6HIL892. It also has a large American eagle decal on the rearview window, according to the CHP.
Officials say Gutler has made suicidal threats in the past and has also threatened to harm the baby.
The baby was described as a Hispanic male with black hair and brown eyes.
The suspect was described as a Turkish male, standing around 6 feet tall, weighing about 120 pounds with brown hair and brown eyes.
Anyone with information on Gutler's whereabouts was urged to call 911.
CORRECTION: It was earlier reported that the abducted child was 1 month old. Eyewitness News has since learned Henry Gulero-Romero is 2 weeks old.http://abclocal.go.com/kabc/story?section=news/state&id=9315496

twinkletoes

Supreme Commander of the Universe With Cape AND Tights AND Fancy Headgear





Job/hobbies

: Trying to keep my sanity. Trying to accept that which I cannot change. It's hard.



this child has been found:

Sunnyvale Amber Alert suspect arrested in Mexico; baby found safe
Wednesday, November 06, 2013
A statewide Amber Alert was issued for a 2-week-old baby kidnapped by 22-year-old Mesut Guler from Sunnyvale in Santa Clara County on Tuesday, Nov. 5, 2013. (KABC Photo)

SUNNYVALE, Calif. (KABC) -- A Sunnyvale man was arrested Wednesday by authorities in Mexico following an Amber Alert. His 2-week-old son was found safe, officials said.

Henry Guler-Romero was taken by 22-year-old Mesut Guler from an apartment complex around 4 p.m. Tuesday.

Guler allegedly got into an argument with the baby's mother and fled with the infant, claiming he was leaving the state. He told her through a text message he could harm himself and their child.

"Anybody that threatens their child, I would say, is a credible threat, and anybody's capable of doing anything," said Capt. Dave Pitts with the Sunnyvale Police Department.

A "ping" from the suspect's cellphone was tracked near the 805 Freeway and Balboa Avenue in the community of Kearny Mesa in San Diego at 11:55 p.m. Tuesday.

Within hours, two reports of unconfirmed sightings of his vehicle were also reported.

Guler was reportedly stopped at a checkpoint in Mexico and questioned by Mexican authorities. The Mexican authorities then contacted U. S. Border Patrol Agents in Lukeville, Ariz.

http://abclocal.go.com/kabc/story?section=news/state&id=9315496

So_Cal

Supreme Commander of the Universe With Cape AND Tights AND Fancy Headgear






---
Permissions in this forum:
You
cannot
reply to topics in this forum