Amber Alert: Temple toddler missing; mom shot
by KVUE.com
Posted on March 14, 2014 at 10:56 AM
Updated today at 11:50 AM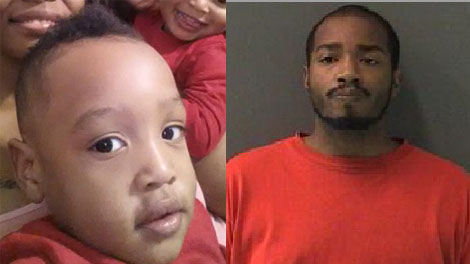 TEMPLE, Texas -- Police in Temple have issued an Amber Alert for a missing two-year-old boy.
Police say Isaiah Corson is believed to have been abducted by Vincent Corson, Jr., 29, his mother's estranged husband. Corson is accused of shooting Isaiah's mother, leaving her injured, according to the Texas Department of Public Safety.
Corson is believed to be driving a red or maroon 2007 Mazda 6 with license plate number CCS2279. He was last seen on 13th Street in Temple.
Police say Isaiah weighs 40 pounds and has brown eyes and black hair with a mohawk style. He was last seen wearing jeans, black shoes and a black hoodie.
Corson is 5'8 and weigh 200 pounds. Police say he has brown eyes, black hair and a beard. He was last seen wearing black jeans and a black jacket.
TPD says Isaiah may be in danger. If you have information call police at (254) 298-5500.
http://www.kvue.com/news/state/Amber-Alert-2-year-old-missing-from-Temple-250342141.html

mom_in_il

Supreme Commander of the Universe With Cape AND Tights AND Fancy Headgear






Update: Dallas police have Amber Alert suspect out of Temple in custody; 2-year-old reported safe
By Matt Peterson
11:31 am on March 14, 2014
Update at 1:15 p.m. by Robert Wilonsky: Dallas police now say they have Vincent Corson Jr. in custody, and that 2-year-old Isaiah Corson is safe. Police say the license plates on the car stopped along Interstate 30 matched the ones in the Amber Alert.
Update at 1:01 p.m. by Robert Wilonsky: Several readers have called about a massive police action on Interstate 30 at Gus Thomasson Road involving several Dallas police and sheriff's department vehicles; one caller said he saw officers wielding large rifles. Police will only say that they do have a child and male in custody, but cannot confirm that this involves Vincent Corson Jr. and Isaiah Corson.
Updates to come.
http://crimeblog.dallasnews.com/2014/03/police-issue-amber-alert-after-man-abducts-toddler-from-temple.html/

mom_in_il

Supreme Commander of the Universe With Cape AND Tights AND Fancy Headgear






Man accused of shooting wife, abducting son wanted cops to kill him


Posted: Mar 18, 2014 7:23 PM EST Updated: Mar 18, 2014 7:25 PM EST
An AMBER Alert and North Texas shooting suspect was taken into custody Friday afternoon after he surrendered. However, that suspect says now that he had other plans in mind, and wanted to force police to kill him.
Police say 30-year-old Vincent Corson first shot his wife in Temple and then drove off with their 2-year-old son, prompting the AMBER Alert.
Police managed to catch up to him hours later in Garland, where he surrendered.
Corson said would have shot at police if it wasn't for his son, and that he doesn't remember everything that happened on Friday.
"From my understanding, I did end up start shooting at her," said Corson. "In my personal perspective, me personally, I didn't shoot at my wife, but my body did."
Corson was very clear that his son stopped him from doing worse.
"I would have stayed there and would've waited for the police to come so I can shoot at them so they can execute me…on the spot," said Corson.
"So you're saying your son saved your life?" asked FOX 4's Joangel Concepcion.
"Yes, and my wife's life," said Corson.
Corson knew he was violating a protective order when he went allegedly went to his wife's Temple apartment, shot her twice and then drove off with their son.
Corson drove for a few hours before police stopped him in Mesquite. There, an off-duty Dallas police officer spotted the car from an AMBER Alert phone message, and within minutes, police made the arrest.
"They told me, 'Get out the vehicle,'" said Corson. "I looked at my son, said 'I love you; I'm sorry.'"
Corson surrendered to police without any issues, but added that things could have gotten even uglier.
"I was going to hop out of the vehicle and start shooting at police again and force them to execute me," said Corson. "The only reason I didn't is because I didn't want them shooting at my son in the car."
Dallas police Lt. Scott Hart wasn't surprised by what Corson had to say, given what police found in the car.
"I'm certain he would have shot it out with us," said Hart. "The gun was there, it was cocked."
Scott says there's no way to determine what a suspect is thinking in those types of situations -- all police can do is be ready.
"We were certainly prepared that day," said Hart. "We had DPS, helicopter, we had our helicopter. I had covert officers that were there. I had several uniformed officers with patrol rifles."
Corson said on Tuesday he's regretful, and all he can do now is think about his family and his son.
"I love y'all, man," said Corson. "I didn't mean to do this. Things got out of hand. I don't know what happened. I'm sorry. I didn't mean for this to happen.
Corson remains in the Dallas County Jail and is expected to be transferred to Bell County within the next week.
He is charged with assault with a deadly weapon.
Corson's wife was taken to the hospital for treatment. She was hit in the arm and in the hip.
Corson's son is said to be safe and was handed over to the Dallas Child Advocacy Center.
http://www.myfoxdfw.com/story/25010982/shooting-suspect-says-he-wanted-to-force-police-to-kill-him#ixzz2wOCxD6OJ

twinkletoes

Supreme Commander of the Universe With Cape AND Tights AND Fancy Headgear





Job/hobbies

: Trying to keep my sanity. Trying to accept that which I cannot change. It's hard.




---
Permissions in this forum:
You
cannot
reply to topics in this forum