HERNANDO COUNTY SHERIFF'S OFFICE

RICHARD B. NUGENT, SHERIFF 
    P.O. Box 10070, Brooksville, FL 34603

 Phone (352) 754-6830     FAX (352) 796-0493
  
  Anonymous TIPS 1-866-990-8477  
VICTIM:  Jennifer Renee Odom
White Female, Born 8/25/1980
On Friday, February 19, 1993, Jennifer stepped off her school bus around 3 p.m., waved goodbye to friends, and started walking the short 200 yards to her home in rural Pasco County, FL.  Children on the bus reported they saw a faded blue pickup truck slowly following Jennifer as she walked home. Jennifer never made it to her door.
During the next days, law enforcement equipped with police dogs and hundreds of volunteers scoured 60 square miles of rolling groves, pastures and woods surrounding the tiny Pasco town of Dade City.
On Thursday, February 25, 1993, a man and woman searching an abandoned orange grove in southeast Hernando County, FL, found Jennifer.   Jennifer's clothing, including the red sweater and Hooter's jacket, have not been found.
Approximately two years later on Thursday, January 5, 1995, a couple hunting for scrap metal in a rural area of Hernando County discovered Jennifer's missing book bag and clarinet case.  The bag and case were found in Western Hernando County.
The suspect vehicle is a  full size, older unknown model pick-up truck, blue in color. 
Jennifer was last seen wearing a white zip-up "Hooters" sweat jacket with orange lettering on the left sleeve, a red long sleeve pullover sweater, possible cashmere or angora, a white turtleneck shirt, white denim pants and black lace-up style boots.
Anyone with information pertaining to this crime is urged to contact:
Det. Jim Boylan
, Hernando County Sheriff's Office
(352) 754-6830
unsolved@hernandosheriff.org
Anonymous tips can be made by e-mail to: 
tips@hernandosheriff.org
or by telephone 
1-866-990-8477
http://www.hernandosheriff.org/Unsolved/Odom/
Last edited by twinkletoes on Wed Jun 04, 2014 12:55 am; edited 1 time in total

twinkletoes

Supreme Commander of the Universe With Cape AND Tights AND Fancy Headgear





Job/hobbies

: Trying to keep my sanity. Trying to accept that which I cannot change. It's hard.



Jennifer Odom Murder: Investigators In Florida Revisit 12-Year-Old's Slaying Cold Case


By TAMARA LUSH 02/20/13 03:39 PM ET EST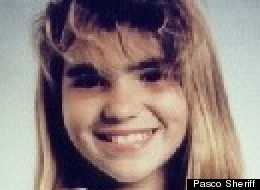 Jennifer Odom
BROOKSVILLE, Fla. — It's been 20 years since Jennifer Odom stepped off her school bus in rural Florida, the last anyone saw of her before the 12-year-old's body was found six days later on a nearby horse trail.
Now, investigators are renewing efforts to find Jennifer's killer after years of dead-end tips that never panned out, despite billboards, a story on NBC's "Unsolved Mysteries" and a $20,000 reward for information. The slaying shook this rural community nestled among orange groves, horse farms and gently sloping green hills about an hour north of Tampa.
"I just remember everyone being so afraid," said Madeline Beaumont, who lived in the area and was one of hundreds who searched the woods and groves for Jennifer in the six days she was missing. "I started looking around and suspecting anybody that looked cross-eyed, `I wonder if they're the one that killed Jenny Odom.'"
Hernando County Sheriff Al Neinhuis recently announced he was dedicating a new, full-time detective to the case. The investigator's salary will be paid for with a grant. Furthermore, two civilian volunteers will do a top-to-bottom review, going through every document, report and piece of evidence gathered.
"Everything is going to be looked at under a microscope," said Hernando County Sheriff's Detective Jim Boylan, who now heads the agency's cold case division.
Thousands of tips have come in over the years, and a dozen more have been given to authorities in the week since the sheriff's announcement. The tips have led to possible clues as far away as Ohio and Pennsylvania, though investigators have not elaborated on what led them to those states. Evidence found at the time suggested Jennifer's killer knew the area well, though where that person is now is a mystery.
"Is there reason to believe he's here now? No," Boylan said.
Boylan oversees 20 unsolved cases, most of them missing persons, unidentified skeletons and mysterious killings. Jennifer is the only child among them.
Jennifer's family reported nothing unusual in the days leading up to the girl's disappearance on Feb. 19, 1993. Jennifer and her sister Jessica normally came home from school on two different buses; the girls played hide-and-seek, and one would sometimes try to lock the other out of the house, depending on who arrived home first.
When Jessica arrived home Feb. 19, the door was locked. Jessica, who was 9 at the time, went to her grandmother's home nearby and got a key. When she looked around her home, Jennifer wasn't there.
The girls' parents came home from work and called authorities. Over the next six days, volunteers on horseback and worried parents scoured the horse farms and orange groves looking for the honor roll student.
"There was definitely a loss, a loss of innocence," said Beaumont, whose daughter was in the same class as Jennifer and who had been to Jennifer's home for a slumber party just months before the disappearance. "I can't think of anybody allowing their child anymore, just get off the bus and walk home alone."
On the sixth day of searching, Jennifer's body was found on a horse trail several miles from her home. The family lived in Pasco County, but the girl was found in neighboring Hernando County. Investigators identified the girl by her gold chain with a half-heart charm that said "best friends," and through fingerprints. Authorities have not released details about exactly how the girl died.
Jennifer's mother and stepfather didn't view the body.
"For me, it was hard to believe it was really her, because we didn't see her," the girl's mother, Renee Converse told the Tampa Bay Times in 2003. She could not be reached for comment by The Associated Press.
Investigators had few clues. Some students and other witnesses said they saw a light blue pickup truck near the bus stop that day. Boylan said he wants to talk to whoever was in the pickup truck; it's such a remote, out-of-the way area that whoever was in the truck probably has good information.
Two years later, Jennifer's book bag and clarinet were found in a trash pile in the woods, 30 miles from her home and 18 miles from where her body was found. At the time, investigators said the way those items were concealed suggested the killer was local and familiar with back roads and out-of-the-way places to hide things.
Boylan said all of the physical evidence will be retested for DNA. He and his detectives will also take a fresh look at convicted serial killers in the region, to see if they were possibly in the area at the time. Boylan said the FBI is also assisting with information and leads that could link out-of-state criminals to Jennifer's killing.
"It's just one of those cases that grabbed the whole community and never let go," Boylan said.
___
To report tips, call Hernando County Crimestoppers at 866-990-8477 or Detective Jim Boylan at 352-797-3719.
http://www.huffingtonpost.com/2013/02/20/jennifer-odom-florida-slaying_n_2725768.html

twinkletoes

Supreme Commander of the Universe With Cape AND Tights AND Fancy Headgear





Job/hobbies

: Trying to keep my sanity. Trying to accept that which I cannot change. It's hard.



Jennifer Odom homicide case timeline
Homicide case timeline
Feb. 19, 1993 – Jennifer Odom, 12, goes missing after getting off a school bus in St. Joseph.
Feb. 25, 1993 – Jennifer's body is discovered by a Hernando County couple. She was lying in an orange grove south of Powell Road near Spring Lake.
Jan. 5, 1995 – A couple discovered Jennifer's book bag and clarinet case in a rural area near Nightwalker Road – about 12 miles northwest of where Jennifer's body was found.
Jan. 9, 1998 – Charges were dropped against a man accused of fatally shooting a 15-year-old girl behind a burned-out building in DeLand. Bobby Allen Raleigh was investigated in the Odom case, but no charges were brought. He remains on death row for previous convictions.
July 21, 1998 – Authorities detain and question Walter Ducharme, a drifter who lives in Maine.
Nov. 18, 1998 – A Hernando County grand jury listens to testimony from Ducharme's ex-wife and decides not to indict Ducharme in Jennifer's slaying. Prosecutors later say they are convinced he had nothing to do with the homicide.
Feb. 20, 2006 – The Hernando County Sheriff's Office holds a media conference – attended by Jennifer's parents – announcing a new hotline and website address devoted to the case.
Early December 2011 – The most recent tip called in to the Hernando County Sheriff's Office.
http://www2.hernandotoday.com/news/2...ine-ar-360513/

twinkletoes

Supreme Commander of the Universe With Cape AND Tights AND Fancy Headgear





Job/hobbies

: Trying to keep my sanity. Trying to accept that which I cannot change. It's hard.




---
Permissions in this forum:
You
cannot
reply to topics in this forum