Suspect in Cherokee death had anger issues
Matthew Glowicki, The Courier-Journal
12:06 a.m. EDT October 4, 2014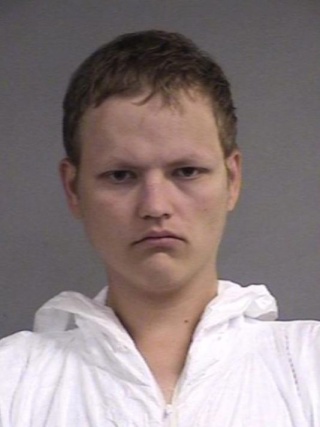 Joseph Cambron
The man accused of fatally stabbing a 12-year-old boy in Cherokee Park on Tuesday told police last year he needed help for anger issues.
"I mean there's just so many cases of me just blowing up," Joseph Cambron told police in a sexual-abuse case.
Cambron, 21, is now charged with murder and tampering with physical evidence in the murder of Ray Allen Etheridge, a seventh-grader who attended school in Clark County, Ind.
Louisville Metro Police said Cambron had known Ray for a few weeks and both spent time in the Mid City Mall.
Ray's mother checked him out of school early Tuesday because she had reliable transportation — something not always common for the homeless family.
The two went to the Mid City Mall area, where police said the family often spent time, to wait for Ray's stepfather to get off work.
"She wanted him to stay with her, but at some point he kind of wandered off," Police Lt. Todd Kessinger said.
Cambron and Ray ended up at Cherokee Park on Tuesday afternoon and got into some sort of physical altercation, Kessinger said. But he wouldn't say what sparked the fight between 6-foot-3-inch, 185-pound Cambron and 5-foot-4-inch, 118-pound Ray.
At 4:30 p.m., Ray's body was found by a bystander on a path off Scenic Loop near the Hogan's Fountain Pavilion. He was pronounced dead about an hour later at Kosair Children's Hospital. Hours later, his mother reported him missing.
Police said Thursday that Ray died of multiple stab wounds.
Kessinger said Cambron is the sole suspect in the case and there's no indication Ray was sexually abused, he said.
Members of Ray's family gathered Thursday afternoon to speak about the boy. His younger brother, Dylan Fanning, 9, said he wants his brother's killer to be locked away "until he learns his lesson."
"I pray for my brother Ray Ray," Dylan said. "I hope he goes to heaven and I love him."
Anger issues
In August, Cambron was acquitted of first-degree sexual abuse in Jefferson Circuit Court in a case involving a 2013 encounter with a 6-year-old girl, court documents show.
According to court documents in the case, Cambron said he has long dealt with anger that "bottles up and bottles up."
The court record included photos of Cambron's old apartment, which was near Iroquois Park, that showed markings on the wall that had been patched. Cambron told the lead detective in the case he would throw knives at his walls out of boredom, and then continued to do it after he found he was good at it, according to a transcript of his police interview.
http://www.courier-journal.com/story/news/crime/2014/10/02/arrest-made-cherokee-park-killing/16582115/

mom_in_il

Supreme Commander of the Universe With Cape AND Tights AND Fancy Headgear







---
Permissions in this forum:
You
cannot
reply to topics in this forum