Arkansas Police Resume Search for Girl Missing 25 Years
by David Lohr
-- Authorities in Arkansas have resumed the search for a teenage girl who disappeared 25 years ago this month, police said.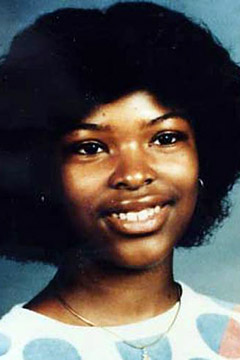 Jeffrey Lynn Smith, 16, was last seen on Dec. 4, 1985, walking home from school with her boyfriend. What happened to her during that walk remains a mystery. Police say she never made it to her Hot Springs home.
Since reopening the search Tuesday, authorities have been focusing on three wooded areas in Hot Springs. Authorities are not saying what prompted the new searches, but they did say the areas they are examining are based on interviews they conducted with a potential suspect. Investigators have not said who that person is.
"We just want to be real careful what we put out," Hot Springs Police Sgt. Jeff Michau told Northwest Arkansas Newspapers.
At the time of Jeffrey Lynn's disappearance, authorities suspected she had run away from home, but later considered the possibility that she had been abducted.
The only clue that has surfaced in the case is a ring Jeffrey had received as a gift from her mother. The gold ring, which was adorned with an opal birthstone, turned up in a local pawn shop not long after she disappeared.
Jeffrey Lynn's older sister, Lisa Murray, was 19 when her sister vanished. Over the years she has reached out to several missing-person organizations, including the National Center for Missing and Exploited Children and Project Jason, for assistance in the case. Both groups have made great strides to raise awareness of Jeffrey Lynn's disappearance.
"Older cases like Jeffrey Lynn's are often overlooked by the media and other avenues of support and awareness," Kelly Jolkowski, president and founder of Project Jason, told AOL News. "The pain for families like Lisa's is no less than any other in this situation. It's never too late for answers and justice."
In addition to reaching out to missing-person organizations, Murray has also attempted, unsuccessfully, to reach out to former President Bill Clinton.
"My mother had worked for his mother as her maid and babysitter while she was pregnant with Jeffrey Lynn," Murray said in a statement to ArkansasMatters.com. "She named my sister after his stepfather, Jeffrey Dwire, because my mother admired that family that much. Mrs. Virginia Dwire also served as my mother's anesthesiologist during the delivery."
read more at:
http://www.aolnews.com/crime/article/arkansas-police-reopen-search-for-jeffrey-lynn-smith-girl-missing-25-years/19752613?test=latestnews

admin

Admin





Sister Of Teen Who Vanished In 1985 Continues Pushing for Justice
Mar 29, 2012 By NewsOne Staff
It's been 27 years since her sister with the bright smile and the  unusual name, Jeffrey Lynn Smith, went missing in Hot Springs, Ark., but Lisa Murray refuses to give up hope.
RELATED:
Family of Teen Who Disappeared In 1985 Wants Closure
Murray wants to find out exactly what happened to her sister (shown at left is how Jeffrey might look at age 38 in an age-progressed photo) who was last seen on December 4, 1985, with her boyfriend at the time. Two years ago, prosecutors used equipment and cadaver dogs to examine some fields in Hot Springs to make sure Smith's body wasn't  there.
Nothing was uncovered, but Murray has continued her push for justice. Now, a new detective assigned to the case has asked the Garland County Prosecutor to review her sister's case once again, Murray told NewsOne.
"They can't just keep sitting on this. Before you know it, everyone involved with the case will be dead. It's been 27 years, far too long," said Murray.
Garland County Prosecutor 
Steve Oliver
 did not respond to a request for comment.
One of the main reasons Murray wants the case to be reexamined is because she feels it didn't get the treatment it deserved from prosecutors 27 years ago.
Smith was originally classified as a runaway, although she had no history of doing so.
"Her case wasn't given the credence because of who she was. She was Black and they put no value in her life," she said.
One example, Murray says, is when they told her mother and stepfather that they had news about Smith's disappearance to get them down to the police station. 
Once there, they found out it was a ruse. Her stepfather had an outstanding traffic warrant and was instead arrested.
"That was inhumane. The people who were supposed to protect us were playing games," said Murray.
When her family reviewed the file in 2007, Murray says they found many inconsistencies, including one of the case's biggest flaws: Murray feels prosecutors back then never closely examined the person her sister was last seen alive with, Smith's boyfriend. Soon after, Smith's ring, a cherished gift from her mother, turned up in a pawn shop. The family believes the boyfriend pawned the ring. Yet, the police interview of the boyfriend was reportedly woefully insufficient.
"The interview consisted of them standing at his door and asking him a question. They interviewed him for five minutes. My mom and dad sat outside the door and watched," said Murray.
The family had concerns that Smith was being abuse by her boyfriend, and he has since served time for shooting another woman, according to news reports and Murray
.
Murray wants young women to know that domestic violence just doesn't happen to housewives or older women; it can happen as young as 12 and 13 years old.
"The ball was dropped a long time ago. Had they done what they should have done, we would have had DNA evidence," said Murray. "Now it's one of those situations where it is a matter of getting people to examine their conscience and break their silence. I'm sure there is someone who knows something. All I can do is keep moving.  If I don't move, nothing will happen."
But law enforcement has since stepped up to the task. They have dedicated detectives who spend their personal time examining the case, and prosecutors appear to be willing to follow new leads. Murray is excited that the new detective on the case is at least willing to ask prosecutors to review the case again.
"I can tell I'm dealing with a different force. There is a different mind-set. It's not about the package, it's about a human life. Their attitudes have changed," said Murray. "If it [the murder] happened today, I would think it would be totally different."
In the meantime, Murray, who lives in  Harrisburg, Pa., continues to advocate for her sister and others. She volunteers for the 
National Center for Missing & Exploited Children.
"I want to make sure they have a shoulder to lean on. I'm doing something in my sister's name," Murray says.
Her mother can't really discuss the case without breaking down, so Murray continues the fight for both of them and for other missing children.
"It's one thing to die when you've lived your life, but when you don't have that person and you never know what happened, there is never any healing," said Murray, who added that she long ago forgave whoever killed her sister.
"My goal now is that we do get some justice."
http://newsone.com/1962945/jeffrey-lynn-smiths-sister-interview/

mom_in_il

Supreme Commander of the Universe With Cape AND Tights AND Fancy Headgear







---
Permissions in this forum:
You
cannot
reply to topics in this forum