Jennifer Caballero, Missing 11-Year-Old Girl With Down Syndrome, Found Dead In Pond Behind Rodgers Middle School In Florida
Posted: 10/24/2012 1:37 am EDT Updated: 10/24/2012 1:38 am EDT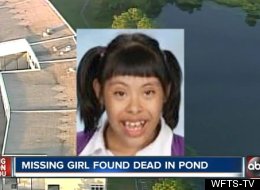 The Hillsborough County Sheriff's Office is investigating in Florida after the body of a missing 11-year-old girl with Down syndrome was found in a retention pond behind Rodgers Middle School in Riverview, Fla., WFTS-TV reports.
Jennifer Caballero was last seen around 12:30 p.m. Monday in the school gymnasium, where she and her 19 classmates with special needs were having their indoor physical education class. According to the Tampa Tribune, the class was supervised by a teacher and six aides, and there were an additional three teachers present in the gym, where a group of about 150 students played.
The Tampa Bay Times reports that two students told a school employee they had seen Jenny walk out of the gym, initiating a school lock-down and search of the surrounding premises by 75 deputies and volunteers.
Six hours later, divers discovered her body in 12 feet of water about 20 feet from the shoreline of the pond, according to Bloomingdale-Riverview Patch. The pond is separated from school grounds by a four-foot chain-link fence.
According to Hillsborough Sheriff David Gee, the girl's family said Jennifer, even with a limp, could climb a fence, the Tampa Bay Times reports. Shirley Lawyer, president of the Down Syndrome Network of Tampa Bay, echoed this sentiment.
"She definitely could have climbed the fence," Lawyer said. "A lot of our kids are actually very good escape artists."
She also expressed shock that six adults could not keep watch over 20 students.
The Tampa Bay Times reports the incident is being investigated by the sheriff's office, with deputies interviewing anyone who had contact with Caballero on Monday to determine how the girl left the school undetected.
The district's Office of Professional Standards is waiting for the Sheriff's office to wrap up its investigation before launching its own inquiry, district spokeswoman Linda Cobbe told the Tampa Tribune.
http://www.huffingtonpost.com/2012/10/23/body-of-missing-11-year-o_n_2007099.html
Jennifer must have been very quick to have made it to the fence and climbed over it without being spotted - if the search was started immediately. So very sad.
Last edited by twinkletoes on Thu Nov 01, 2012 7:01 pm; edited 1 time in total (Reason for editing : Complete heading)

ladibug

Supreme Commander of the Universe With Cape AND Tights AND Fancy Headgear





Job/hobbies

: Collecting feral cats



Family blames school for girl's death
Updated: Oct 31, 2012 6:48 PM EDT
A grieving family is looking for answers after an 11-year-old girl with Down Syndrome wandered away from her school and drowned in a retention pond.
It happened last Monday at Rodgers Middle School in Riverview.
Jenny Caballero has been laid to rest. Now her family, the school and investigators are all focused on why her death happened and what could have been done to prevent it.
Jenny was the youngest of Elizabeth and Tarciscio Caballero's three daughters. Her smile radiates throughout the family's home -- large photos grace every wall, capturing the essence of the 11 year old.
Her mom says she gave them all a reason to live.
"She brightened this house like the sun, she was the most beautiful thing here, she was the joy of this house," Elizabeth Caballero said Wednesday, speaking to us in Spanish through an interpreter.
Elizabeth says Jenny loved school.
"In the morning, when I got her ready, she would get on the bus. She loved school and she would leave for school so happy. She would leave so happy for school, it was something she loved," Elizabeth said.
That's why she can't understand why Jenny would leave the gym. Her mom says she never wandered off before.
"She never went missing, no never! This had never happened. This is the first time it happened, and my daughter never returned," she said.
The Hillsborough County Sheriff's Office is investigating. Detectives are interviewing some of the aides and teachers who were in the gym. Hillsborough schools superintendent Mary Ellen Elia met with Sheriff David Gee Wednesday. Elia said the school district is awaiting the results of the sheriff's investigation.
Jenny's mom says she believes the workers at the school are responsible.
"Nothing would have happened to my little girl if they had done their job right," Elizabeth said.
Elizabeth is angry. She says a friend of Jenny's told her he noticed Jenny missing and alerted teachers. But she says the child told her that no one listened immediately.
The family says they are desperate for answers.
"No one can imagine. Words cannot explain. I can't explain what I feel, but the loss of my daughter hurts me very much," she said.
Her family says their girl loved bright colors, like fuchsia and blue. They say there was never a shortage of hugs and kisses from her.
"We always tried to give her the best that we could give her and love? She never went without it. We gave her so much love and she gave us love and so much more to us," Elizabeth said.
The Caballeros say they haven't been contacted by the school district with information, but they say the district did call last Wednesday to drop off cards and teddy bears.
The sheriff's office says they hope to have interviews at Jenny's school wrapped up by the end of the week.
http://www.myfoxtampabay.com/story/19968972/2012/10/31/family-blames-school-for-girls-death

ladibug

Supreme Commander of the Universe With Cape AND Tights AND Fancy Headgear





Job/hobbies

: Collecting feral cats



---
Permissions in this forum:
You
cannot
reply to topics in this forum