No relation to Anne Josette Hill - but Jasmine went missing on Monday, April 14th.
Jasmine Hill is the same height, weight and eye color as Anne Josette Hill.
Search for Jasmine Hill continues: Last phone signal on Monday
A second wide community search for a 13-year-old Guthrie girl was unsuccessful on Thursday evening. Jasmine Hill has been missing since Monday. Read more at
www.GuthrieNewsPage.com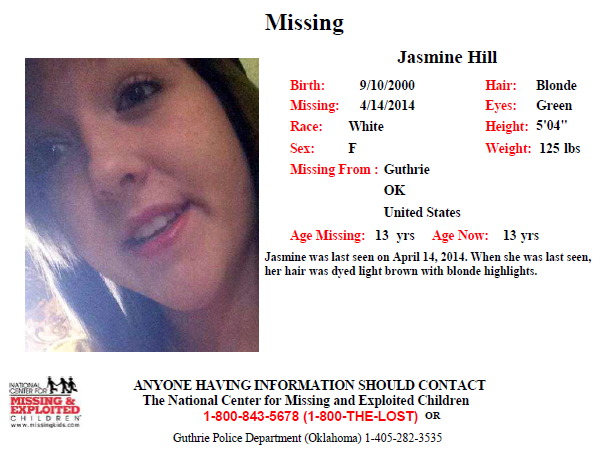 Last edited by twinkletoes on Sun May 25, 2014 11:04 pm; edited 2 times in total (Reason for editing : Correct format of heading)

admin

Admin






admin

Admin





This child is 13 years old. THIRTEEN. Thirteen. Please remember that, and PLEASE KEEP LOOKING FOR HER.
Jasmine called her mom last Friday. She ran away, HOWEVER - and this is a HUGE HOWEVER
WHOMEVER JASMINE IS WITH IS NOT HELPING HER MAKE GOOD CHOICES.
The person who helped Jasmine run has to be older, they have to have a car at least, because Jasmine was calling from the SW side of Oklahoma City.
The person who "helped" Jasmine run away is EXPLOITING A CHILD, she's THIRTEEN.
Please keep looking for Jasmine. PLEASE.
I didn't say anything because I was told (by Jasmine's mom) that the police didn't want the public to stop looking for Jasmine.
I cannot in good conscience continue to let people think this child might be dead, or abducted by a sexual predator, or trafficked, or whatever....she's alive, she ran away, and she needs to be found, because at the very least, someone is manipulating this child....
I think I would call it "Kidnapping by emotional manipulation."
Could someone please pass this on to Websleuths? I tried to register over there so I could let Trish know, but my
admin@justice4caylee.org
email is not receiving mail for some reason, so I couldn't confirm my registration.  
 Thanks.

admin

Admin





Saturday, April 19, 2014
Missing From Oklahoma: Jasmine Hill, 13
Thirteen year old Jasmine Hill is missing from Guthrie, Oklahoma.
She was last seen on Monday, April 14.
Jasmine is described as five foot four, one hundred and twenty-five pounds, with brown hair, and green eyes.
Anyone with information should call the Guthrie Police Department at 405-282-3535.
http://www.toraradical.com/2014/04/missing-from-oklahoma-jasmine-hill-13.html
Sorry, but I wonder who took the picture on the left - it really worries me about the motive of whomever this child is with.

ladibug

Supreme Commander of the Universe With Cape AND Tights AND Fancy Headgear





Job/hobbies

: Collecting feral cats




admin

Admin





Some of the pictures of her are in the same poses as some of the pics of Anne Josette Hill.

twinkletoes

Supreme Commander of the Universe With Cape AND Tights AND Fancy Headgear





Job/hobbies

: Trying to keep my sanity. Trying to accept that which I cannot change. It's hard.




---
Permissions in this forum:
You
cannot
reply to topics in this forum