Casey Anthony buys new car in West Palm Beach amid controversy
Posted: 8:10 a.m. Thursday, May 26, 2016  By Samantha Jordan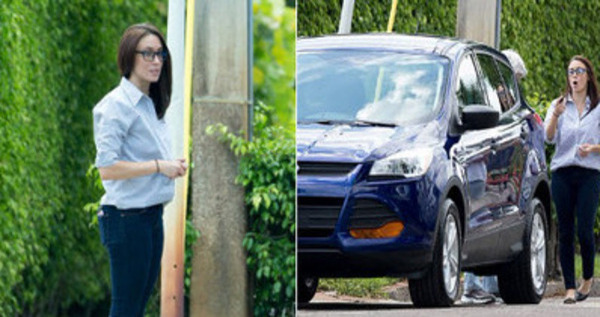 WEST PALM BEACH, Fla. — Casey Anthony is in the market for a new ride.
The infamous Florida mom, 30, made a very rare public appearance at a West Palm Beach, Florida car dealership on Wednesday to pick up the keys to her new Ford Escape, reports the Daily Mail.
Anthony, not seeming to have care in the world, was all smiles when she drove away in the shiny, blue SUV from the Wayne Akers Ford dealership.
Her big purchase comes on the heels of new court documents released during Anthony's bankruptcy case in Tampa that reveal new details from private investigator Dominic Casey, who worked on her murder case in 2008.
In the affidavit, the PI claims that Anthony's defense lawyer, Jose Baez, told him that Anthony admitted to killing and burying her 2-year-old daughter Caylee and that they "needed all the help he could get to find the body before somebody else did." The documents also claim that Anthony wanted to pin the crime on Roy Kronk, the man who discovered Caylee's body, by saying Kronk had kidnapped Caylee.
To top it off, the investigator also alleges that Anthony paid her legal fees in sexual favors to Baez and had even walked in on Anthony naked in Baez's office.  
Casey describes one incident on September 5, 2008 when Anthony was set to do a TV interview but didn't want to go through with it. That's when Baez was forced to cancel the interview with the network and reportedly said: 'You now owe me three blow jobs.'
Baez denied the allegations to People magazine.
"I unequivocally and categorically deny exchanging sex for my legal services with Ms. Anthony," he writes. "I further unequivocally and categorically deny having any sexual relationship with Ms. Anthony whatsoever."
Baez says he now plans on taking legal action.
http://www.news965.com/news/news/local/casey-anthony-buys-new-car-west-palm-beach-amid-co/nrTXm/

mom_in_il

Supreme Commander of the Universe With Cape AND Tights AND Fancy Headgear






---
Permissions in this forum:
You
cannot
reply to topics in this forum