Silver Alert issued for missing 5-year-old girl
Posted: Updated:


By Joseph Wenzel IV, News Editor -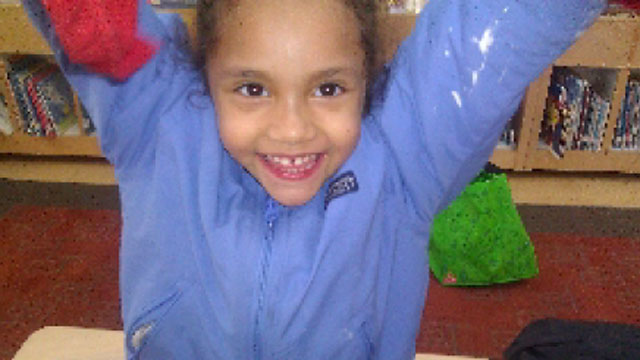 The following photo of Emily Ruiz was provided by the Newington Police Department.
NEWINGTON, CT (WFSB) -
Police are searching for a 5-year-old autistic girl who went missing from Newington almost a week ago.
A Silver Alert was issued for Emily Ruiz, who was last spotted with 40-year-old Tyrone Kelley and 24-year-old Quiana James.
Police said James and Kelley are friends with the mother of Emily. She told police that she was unable to make contact with James and Kelley, who were evicted from a motel in Newington on Nov. 7. 
Police said they believe Emily may be in an orange and white U-Haul box truck with the
Arizona license plate of AD47213.
Investigators believe all three could be in the towns of Newington, Wethersfield, Berlin or Hartford 
Emily is being described as a white girl with brown hair and eyes who weighs 48 pounds and is 3'3" tall.
Police are not releasing why this is a Silver Alert and not an Amber Alert. 
Anyone with any information about her whereabouts is asked to call the Newington Police Department at 860-666-8445.
http://www.wfsb.com/story/23951148/silver-alert-issued-for-missing-5-year-old-girl

twinkletoes

Supreme Commander of the Universe With Cape AND Tights AND Fancy Headgear





Job/hobbies

: Trying to keep my sanity. Trying to accept that which I cannot change. It's hard.



Police have found a missing austic girl from Newington.

Last night, police issued a Silver Alert for 5-year-old Emily Ruiz and said her mother had last seen her in Newington last Thursday.
Police said Ruiz had last been seen with Tyrone Kelley, a tall, thin 40-year-old man, and Quiana James, a 24-year-old albino woman, who are described as acquaintances of the mother.
Emily Ruiz''s mother had not been able to contact the two since they were evicted from a local motel, according to police.
Thanks to tips from the public, Hartford police officers were able to find Emily and Newington police reunited her with her mother.
Newington police are continuing to investigate and the state Department of Children and Families is involved in the case.
http://www.nbcconnecticut.com/news/local/5-Year-Old-Missing-From-Newington-231674041.html

ladibug

Supreme Commander of the Universe With Cape AND Tights AND Fancy Headgear





Job/hobbies

: Collecting feral cats




---
Permissions in this forum:
You
cannot
reply to topics in this forum