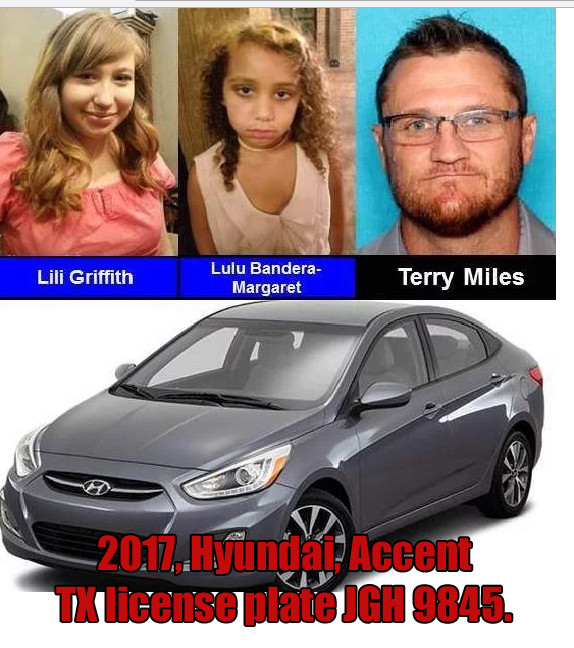 Lilianais Victoria Cake Griffith was born on 5/17/03. She is 5'0", 100 lbs. with light brown hair, brown eyes, with a right nose stud, braces and wearing unknown clothing.
Luluvioletta Mariposo Bandera-Margaret was born on DOB 1/31/10. She is 4'5", 75 lbs with curly brown hair, brown eyes, in unknown clothing.
Police are looking for 44-year-old Terry Allen Miles, born on 6/2/73, 6'2", 200, brown hair, hazel eyes wears glasses & has beard, in connection with their abduction.
The suspect is driving a gray, 2017, Hyundai, Accent with a TX license plate JGH9845.
The suspect was last heard from in Round Rock, TX on 12/30/17.
http://www.kxxv.com/story/37168201/a...rom-round-rock
https://www.google.com/amp/www.state...qH1cJ/amp.html
Terry Allen Miles, 44, is a person of interest in the suspicious death, authorities said. He has also been tied to the abduction of two children, 14-year-old Lilianas Griffith and 7-year-old Luluvioletta Bandera-Margaret, who are believed to be in danger, police said.
Miles was last seen Dec. 30 and could be heading to Louisiana in a gray Hyundai Accent with Texas license plate JGH9845, police said. The hatchback has a white sticker in the upper right corner of the rear window, authorities said.

admin

Admin







Similar topics
---
Permissions in this forum:
You
cannot
reply to topics in this forum