Minn. police search family's home in connection with girl's 1989 disappearance


Published May 19, 2014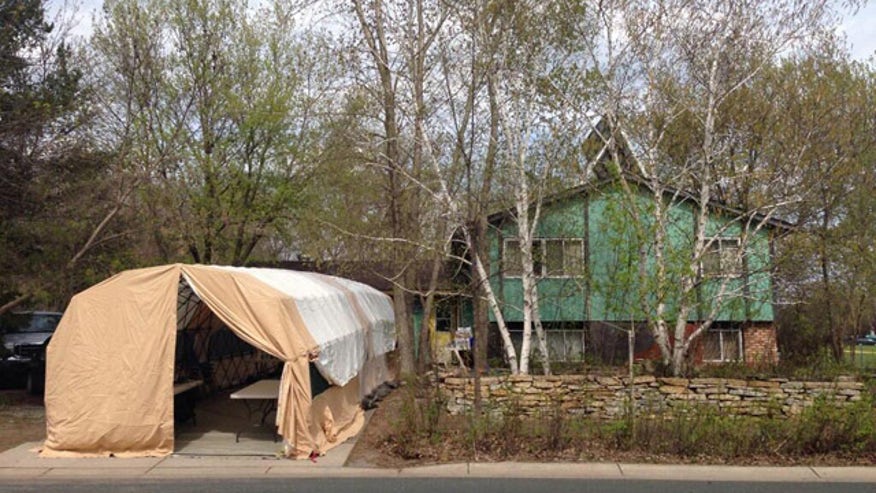 May 18, 2014: A tent set up by investigators outside the Maple Grove, Minn. home of Amy Pagnac, who disappeared in 1989. (Iris Perez/MyFoxTwinCities.com)
Police in Maple Grove, Minn. executed a search warrant Sunday at the family home of a 13-year-old girl who disappeared in August of 1989.
KMSP-TV reported that officers from the Maple Grove Police Department & Fire Rescue, the Hennepin County Sheriff's Office, and the FBI arrived at the home on Hemlock Avenue at approximately 9 a.m. local time and plan to investigate the location for several days.
The station reported that 13-year-old Amy Pagnac was living on the home at the time of her disappearance. Neighbors confirmed to KMSP that the home officers are focused on is where the Pagnac family lives, and property tax records from Hennepin County shows the family has owned the home since 1981. Police also taped off tennis courts at a nearby park.
At the time of her disappearance, Amy's family claimed that the girl had been abducted from a gas station in nearby Osseo, which, like Maple Grove, is located in the northwestern suburbs of Minneapolis. 
Just last year, Susan Pagnac and Marshal Midden told KMSP that they believe their daughter is still alive, and said the rescue of three women who had been held captive for more than a decade in Cleveland gave them hope.
At a Sunday afternoon press conference, police did not confirm that the search warrant was connected with the Amy Pagnac case. In fact, the search warrant will remain sealed from public record, but authorities offered no explanation as to why that decision was made.
Officials also would not say if any member of the Pagnac family is considered a suspect, and they would not say whether the family still lives there or comment on their current whereabouts.
http://www.foxnews.com/us/2014/05/19/minn-police-search-family-home-in-connection-with-girl-18-disappearance/

twinkletoes

Supreme Commander of the Universe With Cape AND Tights AND Fancy Headgear





Job/hobbies

: Trying to keep my sanity. Trying to accept that which I cannot change. It's hard.



Parents of girl who disappeared 25 years ago say new search of their home was caused by 'hateful' neighbors reporting landscaping projects and they reveal belief their teenager was victim of sex-trafficking
Amy Sue Pagnac went missing 25 years ago at a gas station while her father used the restroom
On Sunday, investigators showed up at her childhood home to conduct a week-long search Amy's parents Sue Pagnac and Marshall Midden were told to leave the property but were not named as official suspects
Amy's mother says she knows they are suspects but is just glad that there is renewed interest in her daughter's case
They believe their daughter may be a victim of sex trafficking
By ASHLEY COLLMAN and PATRICIA SHIPP
PUBLISHED: 16:07 EST, 20 May 2014
UPDATED: 17:21 EST, 20 May 2014
The parents of a 13-year-old girl who went missing 25 years ago are 'thrilled' police have started searching their home for more evidence, saying they 're just glad their daughter's case is getting a surge of attention.
Amy Sue Pagnac went missing in 1989 from a gas station in Osseo, Minnesota while her father, Marshall Midden, was using the restroom.
Amy's cold-case disappearance was reopened on Sunday when investigators began searching her childhood home in Maple Grove, telling her parents to leave the property without officially naming the two as suspects.
In a press conference on Monday, police Capt KeithTerlinden said the search was expected to last until Friday, at the least.
While investigators sift through their house and property, Amy's parents are staying in the garage of another daughter's home.
'I am thrilled that so much attention has finally been placed on Amy, I am hoping this will finally bring her home,' her mother, Susan Pagnac, told MailOnline.
Mrs Pagnac says investigators showed up on Tuesday and told her and her husband to leave for about a week, without giving any explanation for their new search.
However, she thinks some nosy neighbors may be to blame for the renewed efforts.
'I hear a couple of our neighbors, who have hated us for years, are talking and telling people we did a lot of landscaping on our property after Amy disappeared so perhaps that has something to do with what's going on now.
'What they obviously forgot to add is that the work we did was in 1993 and Amy went missing in 1989!
'But for whatever reason, I am very happy they are still looking for my little girl, but I will also be happy when this investigating into our home and family is completed so these people will have to shut up!
'We love Amy and would never do anything to hurt her.'
Mrs Pagnac recalls the day Amy disappeared, saying her husband stopped at the gas station to 'do his business'.
When he came out of the restroom, Amy was gone but he just figured she went to use the bathroom as well.
When a stranger came out instead of his little girl though, Mr Midden started to worry.
'Marshall then started to look around the gas station for her but she had disappeared into thin air!' Ms Pagnac said.
Her husband called home to see if Amy had showed up there, but she hadn't. He then called police and they told him to go home so they could interview the couple together.
'The police began looking for her but there were no witnesses, no calls, nothing and the police kept coming back to us because they said we were the last ones seen with Amy, but that's not true -- obviously!' Ms Pagnac siad.
Over the years, her parents have received information giving them hope that Amy is still alive.
Years ago, a woman who grew up with Amy said she'd seen her 'in one of these places - stripping and prostituting'.
And then there was the time someone was approached at a train station by a girl who said: 'I'm Amy Pagnac'.
'How many people would choose the name Pagnac? Ms Pagnac asked the Star Tribune.  
But it's the story a private investigator told Amy's parents in 1990 that they believe the most,
The PI came to town and said Amy had been the victim of a sex-trafficking ring, but by the time police had stepped in the ring had already moved on.
There's also question's about Amy's health state at the time of her disappearance since she was suffering from migraines and had a seizure previously.
'We had been taking her to the doctor to find out the cause of her health problems but did not have a diagnosis yet, they were still taking tests when she vanished.
'Amy was also showing signs of being bi-polar as well as fetal brain tumor symptoms, but the doctors had ruled out she had a tumor, thank goodness, but they did not know what was wrong with her.'
However, they don't believe Amy's health issues would have caused her to run off for 25 years.
'Amy was a very gentle child, who was very sweet and nice to everyone,' her mother said.
Ms Pagnac is certain that someone has more information about her daughter, and is hoping they come forward with that information.
'Amy's age-enhanced picture from the National Center for Missing and Exploited Children is on their web site so I hope all of the heartache finally ends and we find out what happened to my daughter.'
http://www.dailymail.co.uk/news/article-2634217/Parents-girl-disappeared-25-years-ago-say-new-search-home-caused-hateful-neighbors-reporting-landscaping-projects-reveal-belief-teenager-victim-sex-trafficking.html#ixzz32MfCe84m

mom_in_il

Supreme Commander of the Universe With Cape AND Tights AND Fancy Headgear






---
Permissions in this forum:
You
cannot
reply to topics in this forum