Lifted– Amber Alert: Endangered Person Advisory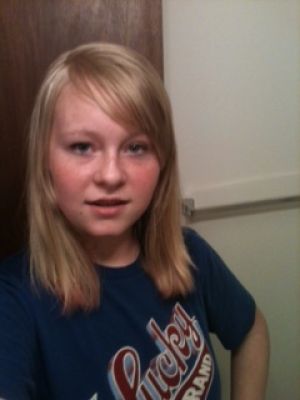 Amber Alert: Mariah Ingleby
Posted: Tuesday, July 15, 2014 10:22 am |
 Updated: 1:14 pm, Tue Jul 15, 2014.
An endangered person advisory was issued Monday evening for Mariah Ingleby, 15, for Casper and the surrounding areas. 
Ingleby is 5 feet 4 inches tall and weighs 160 pounds with blue eyes and shoulder length blonde hair. She was last seen wearing a tight Yellow T-shirt, tight blue capri pants and no shoes.
The advisory states that Mariah is suicidal and known to cut herself.
According to an updated advisory released this morning, Ingleby may be in the company of Damian Moore, 14. Moore is a caucasian male 5 feet 8 inches tall and weighs 145 pounds. He has blue eyes and brown hair. He was last seen wearing a long white Hurley T-shirt and blue jeans.
Ingleby and Moore have been entered in the National Crime Information Center.
According to the issued advisory, Ingleby escaped from the Wyoming Behavioral Institute at approximately 10 p.m. on July 13. 
If located or if you have any information, please call 911 or contact the Casper Police Department at 307-235-9300. 
Issued Advisory:
ENDANGERED PERSON ADVISORY
THIS ADVISORY IS FOR CASPER AND SURROUNDING AREA AS WELL AS SOUTHEAST WYOMING.
AN ENDANGERED PERSON ADVISORY IS BEING ISSUED ON BEHALF OF THE CASPER POLICE DEPARTMENT.  MISSING IS 15 YEAR OLD MARIAH INGLEBY.  MARIAH IS 5 FEET 4 INCHES TALL AND WIEGHS 160 POUNDS WITH BLUE EYES AND SHOULDER LENGTH BLONDE HAIR.  MARIAH WAS LAST SEEN WEARING A TIGHT YELLOW TEE SHIRT AND TIGHT BLUE CAPRI PANTS AND NO SHOES.  MARIAH ESCAPED FROM WYOMING BEHAVIORAL INSTITUTE AT APPROXIMATELY 2200 ON JULY 13, 2014 AND IS BELIEVED TO BE ON FOOT, UNKNOWN DIRECTION OF TRAVEL.  MARIAH IS SUICIDAL AND KNOWN TO CUT HERSELF. 
IF LOCATED PLEASE CALL 911 OR CONTACT THE CASPER POLICE DEPARTMENT AT 307-235-9300
http://www.douglas-budget.com/news/article_3bf40164-0c3c-11e4-9bfb-001a4bcf887a.html

twinkletoes

Supreme Commander of the Universe With Cape AND Tights AND Fancy Headgear





Job/hobbies

: Trying to keep my sanity. Trying to accept that which I cannot change. It's hard.




mom_in_il

Supreme Commander of the Universe With Cape AND Tights AND Fancy Headgear







---
Permissions in this forum:
You
cannot
reply to topics in this forum