Clarksville Police continued Saturday looking for 15-year-old Sierra
Nicole Simpson, who disappeared after school Thursday at Kenwood Middle.There
have been several sightings and called-in tips, but each time police
followed up on the information, she was not at that location, according
to a news release from police spokesman Officer Jim Knoll.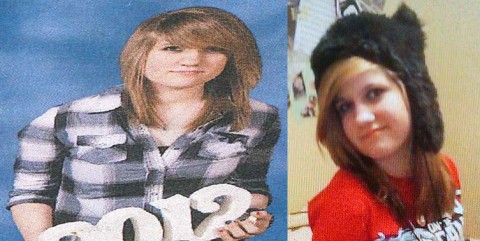 Sierra, of 1346 Chucker Drive, was last seen at the end of the school day
Thursday and she has not been heard from by family or friends since.
So far, there have been no indications of foul play or abduction, the release said.
During a mass search on Friday, some clothing was found, but it did not belong to Sierra.
Law enforcement arranged for two "Child is Missing Reverse 911" alerts in
the areas where caller said Sierra was spotted, and police followed up
on numerous calls, the release said. Detective Kevin Shaw has been
tracking down all leads.
Sierra is 5-foot-1 and 115 pounds and has blond hair and blue eyes. The last
clothing description was blue jeans, black tank-top and Metallica hoodie.
Anyone with information can call the TIPSLINE, 931-645-8477.
http://www.theleafchronicle.com/article/20120318/NEWS01/303180021

TomTerrific0420

Supreme Commander of the Universe With Cape AND Tights AND Fancy Headgear





Job/hobbies

: Searching for Truth and Justice



Sierra Simpson's parents insist their
daughter is not just another runaway teen. The 15-year-old hasn't been
seen since Thursday, and they are wondering what happened to little
girl.
The family launched a massive search on
Friday which turned up nothing. Now they are relying on clubs and
military groups to pass out fliers across the city.

"I couldn't imagine what the family is going
through right now. Hopefully everything turns out good, and they find
her," said David Trembly. He is one of the hundreds of volunteers who
has hit the streets to help others recognize Sierra Simpson's face.

"Her parents are in the military. If you see or hear anything please call the number on the flier," he told one driver.

Her mom is Sgt. First Class Rebecca Abney who
has gone from a tough army leader to nothing more than a worried mother
since Sierra's disappearance on Thursday.

"I feel sick to my stomach everyday like I am
going to throw up, and my heart hurts...I'm thinking the more time that
goes by, the more she is just out there by herself," said Abney.

Sierra was last seen at Kenwood Middle School
on Thursday afternoon, but she never got on the school bus, her parents
insist this is not a case of another teen runaway, that their daughter
just disappeared.

"We know our daughter. We know our family.
This is one of the things, this just wouldn't happen. She wouldn't just
runaway," said her step father, Anthony Abney.

And they refuse to let Sierra just vanish.
They are now offering a cash reward in hopes someone will start talking,
before they lose more time or hope of finding her safely.

"If you can't motivate someone's heart, you can motivate through cash sometimes," said her father, Eric Simpson.

Her parents and step dad are offering $2,000 for any information that leads directly to the teen.

"I just have to stay determined. I am not going to give up hope, I'm not going to give up on my daughter," said Simpson.
http://www.newschannel5.com/story/17186261/missing-teens-parents-offer-cash-reward-for-information

TomTerrific0420

Supreme Commander of the Universe With Cape AND Tights AND Fancy Headgear





Job/hobbies

: Searching for Truth and Justice



http://www.wsmv.com/story/17182394/missing-teen-returns-to-clarksville-safely

Missing teen returns to Clarksville safely

Posted: Mar 17, 2012 4:14 PM EDT Updated: Mar 20, 2012 9:20 AM EDT
Reported by Forrest Sanders

CLARKSVILLE, TN (WSMV) -

The missing 15-year-old girl called police to let them know she was OK, according to a news release.

Clarksville Police said the missing teen, Sierra Nicole Simpson, called police about 1:15 a.m. from a Clarksville convenience store and said she was unharmed and did not need a medic. Simpson told dispatch she wanted to speak to Detective Kevin Shaw, who was investigating the incident.

It was determined that Simpson has planned leaving her residence and packed clothes on Wednesday to take with her to school Thursday.

Simpson told police she left school Thursday, wandered around and was offered a ride from two men she did not know. She had been staying with them in Kentucky until she decided to return to Clarksville early this morning.

She said her decision to return was in part due to her feeling bad after seeing the media coverage and the effort being expanded to locate her.

Her family has been notified of her return.

http://www.wsmv.com/story/17182394/missing-teen-returns-to-clarksville-safely

alwaysbelieve

Supreme Commander of the Universe With Cape AND Tights AND Fancy Headgear






http://www.clarksvilleonline.com/2012/03/20/missing-juvenile-sierra-simpson-has-been-located-by-clarksville-police-and-was-actually-a-runaway/

Missing Juvenile Sierra Simpson has been located by Clarksville Police and was actually a Runaway

March 20, 2012
Clarksville, TN – On March 20th, 2012, around 1:15am, the 911 center received a call from Sierra Nicole Simpson informing them that she was at the MAPCO, 2491 Fort Campbell Boulevard, Clarksville, TN.

She told the call taker that she was unharmed, did not need a medic, wanted to speak to Detective Kevin Shaw, and did not want family members notified.

She was taken to the Clarksville Police precinct so she could talk to Detective Shaw. Some of the information conveyed to Detective Shaw was sketchy and will take further investigation to fill in the gaps.

But, it was determined that Simpson had preplanned leaving her residence and packed clothes on Wednesday to take with her to school on Thursday.

According to information received from Simpson, she left school on Thursday, March 15th, wandered around and was offered a ride from two men she did not know. She has been staying with them in Kentucky until she decided to return back to Clarksville on March 20th.

Her decision to return to Clarksville was in great part due her feeling bad after seeing all of the extensive media coverage and effort being expended to locate her.

The family has been notified of her return.

The investigation is ongoing.
http://www.clarksvilleonline.com/2012/03/20/missing-juvenile-sierra-simpson-has-been-located-by-clarksville-police-and-was-actually-a-runaway/

alwaysbelieve

Supreme Commander of the Universe With Cape AND Tights AND Fancy Headgear







Similar topics
---
Permissions in this forum:
You
cannot
reply to topics in this forum