Police: Missing teen in 'extreme danger'
September 15, 2012
By BILL ARCHER Bluefield Daily Telegraph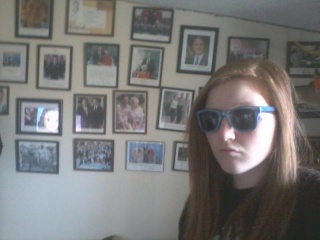 GREEN VALLEY — The deputy who has been investigating the case of a teenager who was reported missing from her Mercer County home on Aug. 23, and has been missing ever since, has placed information related to her on the National Center for Missing and Exploited Children database.
Adreanna Hamby, 17, was reported missing from her home in the Elkview Subdivision on Aug. 23, according to Cpl. S.A. Sommers of the Mercer County Sheriff's Department. Sommers stated in his update of the missing persons report that he and Sgt. M. Summers of the West Virginia State Police have been able to determine that Hamby spent the night of Aug. 23 at the apartment of two males in Bluefield. According to S.A. Sommers, Hamby walked to the Greyhound Bus Depot in Bluefield and purchased a ticket to Roanoke, Va., using the name Jennifer Blankenship.
Sommers stated that he was unable to determine if Hamby left the bus at another stop before reaching Roanoke. He said that all Roanoke agencies as well as the Amtrak Police Department were notified about the missing teenager.
"Her phone records show an alarming number of contacts from out of state, including the DC Metro area, New Jersey, Montana, New Hampshire and Charlotte," Sommers wrote in a press release. "The parents state that they, nor their daughter are related or are friends with anyone from the states listed or the numerous other out of state numbers found."
Sommers said that no one has come forward with any information that law enforcement officers can use in their efforts to locate Hamby. "It is my belief that she was coached by a third party in how to avoid detection while traveling abroad," Sommers stated in the press release. Also, coupled with the fact that within two to three months prior to her disappearance she had a drastic change in her personality, I believe that she may be in extreme danger."
He stated that the State Police is in the process of examining two cell phones and two computers in search of clues that might help them find Hamby, but nothing has emerged thus far. Sommers said he provided the additional information with the hope that someone might come forward to help them find her. Anyone with information can call 911, the Mercer County dispatch at 304-487-8364 or the National Center for Missing and Exploited Children at 1-800-843-5678.
http://bdtonline.com/local/x1059021160/Police-Missing-teen-in-extreme-danger

mom_in_il

Supreme Commander of the Universe With Cape AND Tights AND Fancy Headgear






September 27, 2012
Sheriff's deputy locates missing Mercer County teen in North Carolina
By BILL ARCHER
Bluefield Daily Telegraph
CHARLOTTE, N.C. —
A Mercer County teenager who has been missing since Aug. 23, was
located Wednesday morning at a North Carolina apartment complex,
according to Cpl. S.A. Sommers of the Mercer County Sheriff's
Department.
Adreanna Hamby, 17, of Green Valley, had made contact with someone in
the area, and from that contact, law enforcement officers were able to
trace her whereabouts to the Charlotte/Mechlenburg County, N.C., area.
Sommers said on Monday, he made contact with several apartment complex
managers in that area and sent them copies of the National Center for
Missing and Exploited Children poster. On Wednesday morning, he received
a call from one of the apartment managers saying that Hamby had showed
up in the complex office. "She's safe and in a secure facility," Sommers
said.
Sommers said that he spoke to Hamby family members on Tuesday night,
saying that the search had been narrowed. He said the apartment complex
manager contacted juvenile authorities who picked up the Mercer County
teen and transported her to a safe facility.
He said that Charlotte/Mechlenburg authorities are in the process of
preparing the extradition papers for Hamby. "They'll get all of that
together, then we'll go down there, pick her up and bring here back
here," Sommers said.
http://bdtonline.com/local/x766450114/Sheriff-s-deputy-locates-missing-Mercer-County-teen-in-North-Carolina

angelm07

Supreme Commander of the Universe With Cape AND Tights AND Fancy Headgear







---
Permissions in this forum:
You
cannot
reply to topics in this forum