Missing girl, Kinshasa Phillpotts, 14, AKA "Kinchy"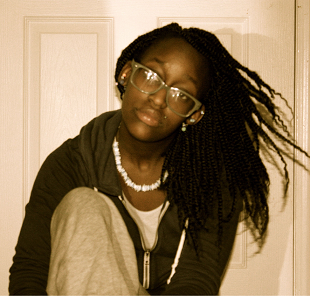 The Toronto Police Service is requesting the public's assistance locating a missing girl.

Kinshasa Phillpotts
, 14, also known as "Kinchy", was last seen on Saturday, January 22, 2011
at 3 a.m., at 224 Richmond Street West, in the entertainment district.
She is described as black, 5'6", 125 lbs., with brown eyes, long, black hair in twisted braids,
wearing large circular framed glasses. She was wearing a white, panda bear winter hat,
blue−black waist length jacket and short brown boots.
Police are concerned for her safety.
Anyone with information is asked to contact police at 416−808−4100, Crime Stoppers
anonymously at 416−222−TIPS (8477), online at
www.222tips.com,
text TOR and your
message to CRIMES (274637), or
Leave A Tip on Facebook
.
http://www.torontopolice.on.ca/newsreleases/pdfs/20386.pdf
Last edited by karma on Mon Apr 25, 2011 11:48 pm; edited 1 time in total

karma

Supreme Commander of the Universe With Cape AND Tights AND Fancy Headgear






We have been notified by private message that she is no longer missing.
Last edited by mom_in_il on Wed Dec 31, 2014 4:01 pm; edited 1 time in total

mom_in_il

Supreme Commander of the Universe With Cape AND Tights AND Fancy Headgear






J4C POLICIES AND RULES
REMOVING NAMES FROM THIS WEBSITE
We get most of our information from Main Stream Media. You will find most posts with links to our stories. It is our policy here at J4C NOT to remove names from this website. Due to the overwhelming requests we've recently had to remove names and stories, we, the moderators and administrators have felt it necessary to make it very clear that we will not remove stories or rewrite history. Unfortunately, once something is on the internet, it stays on the internet. Even if we remove stories, names will still show up in searches and can be accessed through Google's Cache. There is also a website called the "Way Back Machine" where you can access webpages as they were days, years, and months ago. 
It isn't that we do not have compassion for your situations, we are here to raise awareness and help where we can, in the fight against child abuse, exploitation and murder. It is not our intention to cause further harm to a child by leaving their names here, but you cannot unring a bell. Once it is out there, it is out there.
Furthermore, to the people that have threatened us with lawsuits, you may want to check the law. It is NOT illegal to publish a minor's name. Sometimes we will redact a name if the publishing of the name is causing even further distress to the child, but these are very rare cases, and I personally will speak to the parents or caregivers and make a decision based on the circumstances.
These are not easy decisions for us, and we do try to have compassion. I would like to point out that none of us can police the entire internet. As much as some people would like to erase the past, unfortunately it just isn't possible once it is published.
I'd like to add a special note to teenagers who think about running away. If you don't want your name plastered all over the internet and showing up on search engines, don't run away. 
~Admin~

mom_in_il

Supreme Commander of the Universe With Cape AND Tights AND Fancy Headgear






---
Permissions in this forum:
You
cannot
reply to topics in this forum